Blog & Free Advice: Google Analytics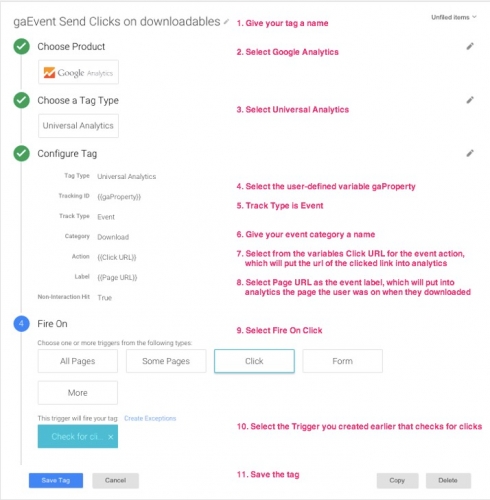 Learn how to track file downloads using Google Tag Manager v2 and Universal Analytics. Both Google Analytics and Google Tag Manager have received facelifts over the last couple of years. The changes are good, but as a non-programmer some of the setup for Google Tag Manager v2 might be a little foreign. Here's how I recommend getting started with tag manager. I'm going to assume you are using Universal Analytics and that you...
---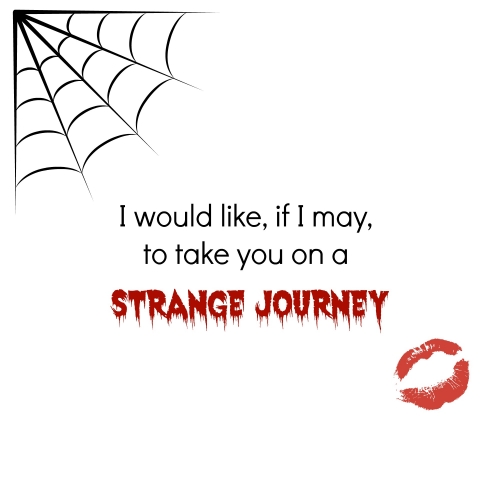 Can you believe it? The Rocky Horror Picture Show celebrated 40 on September 26. When the film's early cult following started interacting with the screen, these talkback lines became a ritualized script for audience participation. And the show became an experience. Participation was easy to measure. It was visible. Toilet paper was thrown. But in the digital world, if you want your audience doing the Time Warp then your content strategy must be more than...
---
School is back in session! It's time to test your Google Analytics IQ. Can you pass this back-to-school test? Sharpen your skills. See if you know how to access these Google Analytics insights related to website performance. 1. How many people visit your website per month? Google Analytics > Reporting > Audience > Overview Look for the "Users" number to see how many people visited your website in any given time period. The...
---
Universal Analytics (the upgrade to Google Analytics) in a Nutshell. With details on 5 reports for accessing keyword data, enhancing the onsite user experience, tracking conversions and remarketing. Additional resources: Blog post: Upgrade from Google Analytics to Universal Analytics For Publishers Using External Developers: Example Letter for Requesting the Upgrade 1-Minute Marketing Video on how to get and implement the new code for Universal Analytics
---
Instructions for website developers, programmers or IT for upgrading from Google Analytics to Universal Analytics. Dear <insert name>, We at <publisher name> would like to upgrade to Universal Analytics, which offers an improved way to track website visitors. The upgrade from classic Google Analytics to Universal Analytics requires some changes to the Analytics tracking code on our website, <insert URL>. The new version of the Analytics tracking...
---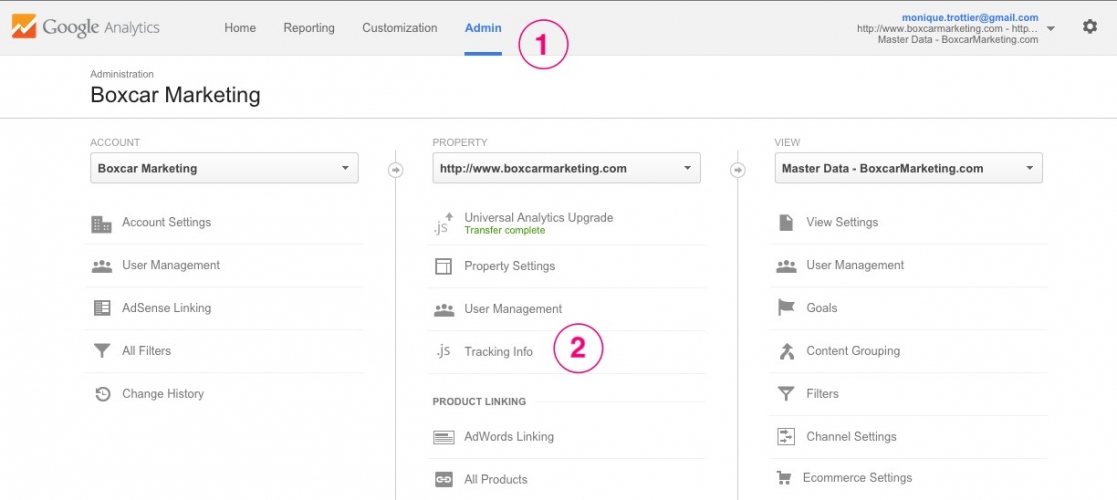 Universal Analytics is out of beta and Google is rolling out the upgrade across accounts. If you want to ensure the switch over is on your schedule then don't wait to be pushed. Here's how to upgrade to Universal Analytics Log into your Google Analytics account Get the new tracking code by clicking Admin in the top menu and selecting Tracking Info from the Property column Replace the existing code on all your...
---
Things are changing! Google recently introduced Universal Analytics. Universal Analytics is a new code snippet that provides access in Analytics to a set of features that was previously only available in the development environment, in particular the ability to set custom dimensions and metrics and multi-platform tracking (track more than just websites). New Code Based on what I've read, the best thing for existing sites already running standard Google Analytics is to implement Universal...
---
Above are the slides for my recent webinar for eBOUND Canada members on Google Analytics for Publishers. In the presentation, I reference a number of resources that are availabe on the Boxcar Marketing blog so I thought it would be helpful to compile them here. 1. Getting Started (or making sure you're on your way, the right way) a. Start with the slides above and this companion blog post on Google Analytics for...
---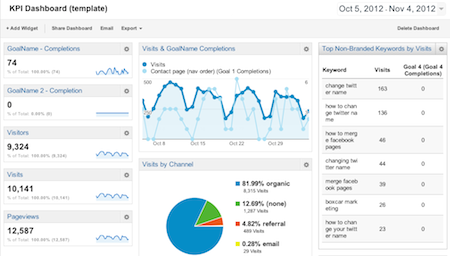 Publishers of all sizes are working to the best of their abilities with limited resources. So, when it comes to Google Analytics, why waste time looking at data and reports that don't provide actionable next steps? Instead focus on a few metrics that make sense for your business and identify marketing opportunties, shortcomings or visitor insights. Acquisition of Traffic to the Site Instead of looking at the total number of visits to your...
---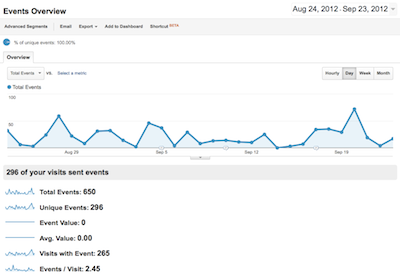 Google Analytics' Event Tracking is a great tool for monitoring activities on your site that aren't related to a specific URL destination. Whereas Google Analytics typically tracks activities on your site related to page loads, Event Tracking tracks actions where no URL destination is recorded, such as clicks on social media links or PDF downloads. How to Install Event Tracking Before you can add Event Tracking to your site, you need to...
---