Agriteam Canada Website Redesign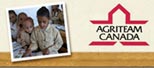 Content Management, Site Architecture & Website Redesign for Agriteam Canada
www.agriteam.ca
Summary
Based in Calgary, Alberta, Agriteam Canada was established in 1987 by Robert Francis, and has since conducted more than 170 projects worldwide in sectors including health and population; gender equality; education and education reform; agriculture and agribusiness; community development; governance and public sector reform; private sector development; legal and judicial reform; corporate social responsibility; and environment.
In 2008, Agriteam wanted to update their existing website to better communicate the fundamental strengths of their organization, showcase its values as well as its proven record of delivering successful and sustainable project management.
Client Quote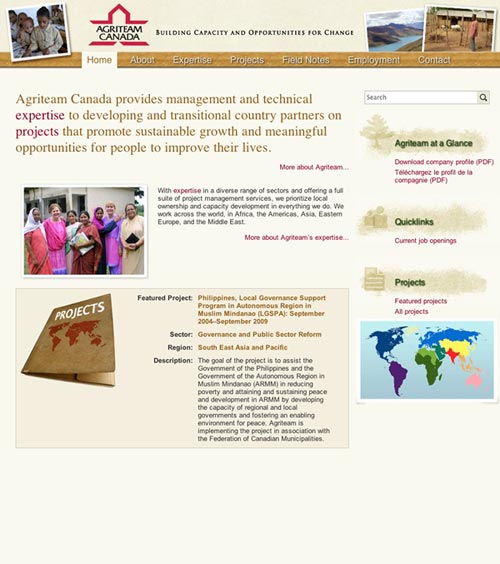 Challenge
Agriteam had an outdated website that did not appear in search engines and was confusing for users wishing to locate key information. The team needed to improve their online presence in search engines and raise the profile of their projects. In addition, Agriteam needed their website to showcase the types of projects they work on in collaboration with developing and transitional countries.
Approach
Our project partner, Kiley Turner of Turner-Riggs, worked with Agriteam employees to develop updated copy that concisely highlights Agriteam's strengths in project development and management, as well as their emphasis on collaboration and teamwork. Boxcar Marketing updated the website's information architecture so that key data was current, well presented and digestible.
Design/Development: Custom Website Design, XHTML/CSS Coding, Content Management System, Website Maintenance
Results
The result is a professional-looking site that is easy to navigate. Boxcar Marketing ensured that Agriteam's expertise was clearly highlighted and established their work beyond the agricultural sector. We designed the site to be attractive to governments and NGO partners alike, and we profiled the people involved to add a personal tone to the work but also to instill pride amongst the funders, staff and field officers. We ensured that the projects are well organized on the page and are searchable by sector or by region. Subtle details in the front-end design and back-end development allow for an easy-to-manage site.
Completed on June 2008