Internet Marketing + Digital Business Strategy
Boxcar Marketing provides consulting, campaign planning and in-house training for the publishing industry (book publishers, agencies, start-ups, libraries, booksellers and other education & cultural organizations). Our Services include content development, Google Analytics reporting and social media audits. Find out more About Boxcar Marketing. Talk to us about your project.
---
1 Minute Marketing Tips
Get beyond the clutter of seasonal promotions and offer personalized birthday greetings and special time-based deal throughout the year.
---
What We're Talking About
Holiday campaigns are in full swing this week since there are only 30 sleeps left until Christmas. Here are 3 tips to optimize your promotions. 1. Provide incentives for people to subscribe to...
---
Project Highlights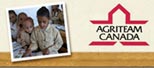 Based in Calgary, Alberta, Agriteam Canada was established in 1987 by Robert Francis, and has since conducted more than 170 projects worldwide in sectors including health and population; gender equality; education and...