Internet Marketing + Digital Business Strategy
Boxcar Marketing provides consulting, campaign planning and in-house training for the publishing industry (book publishers, agencies, start-ups, libraries, booksellers and other education & cultural organizations). Our Services include content development, Google Analytics reporting and social media audits. Find out more About Boxcar Marketing. Talk to us about your project.
---
1 Minute Marketing Tips
Adapted from Copyblogger's PAS and Nancy Duarte's Resonate, I suggest the following PAUSE framework for content marketing. Crucial is an attention-grabbing headline and hyper-focussed audience Problem: State the pain point ...
---
What We're Talking About
Marketers have tended to focus on how to build content on each social media platform as a way to draw traffic to their website. There has been value in that,...
---
Project Highlights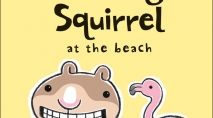 In August 2013, Scaredy Squirrel at the Beach was selected as an iTunes Book of the Week. As the first children's title to be selected, it was difficult to know...