Internet Marketing + Digital Business Strategy
Boxcar Marketing provides consulting, campaign planning and in-house training for the publishing industry (book publishers, agencies, start-ups, libraries, booksellers and other education & cultural organizations). Our Services include content development, Google Analytics reporting and social media audits. Find out more About Boxcar Marketing. Talk to us about your project.
---
1 Minute Marketing Tips
Small changes to book detail pages can have a big impact on sales conversions. Have a look at the copy, testimonials (review quotes) and calls to action. Here are some...
---
What We're Talking About
It's not just the Easter Bunny who hides Easter eggs. Programmers and designers are in on the game. Below are some of my favourite hidden gems around the web....
---
Project Highlights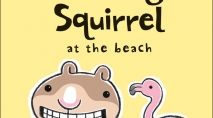 In August 2013, Scaredy Squirrel at the Beach was selected as an iTunes Book of the Week. As the first children's title to be selected, it was difficult to know...