Book of the Week: Online Marketing Campaign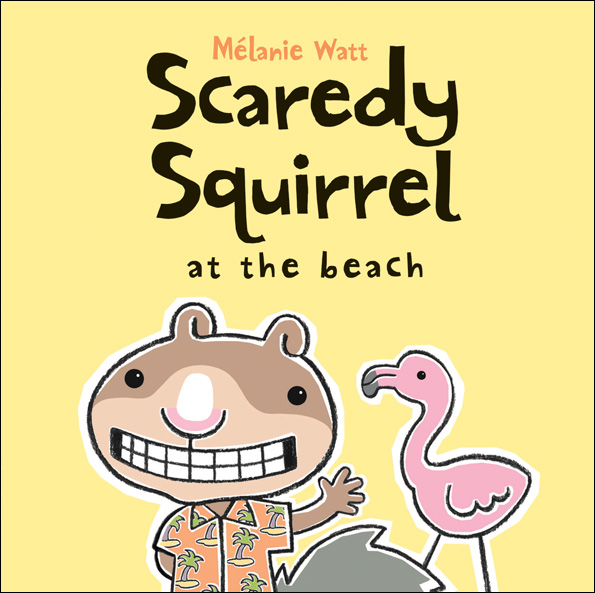 Awareness campaign to generate ebook downloads and leads
http://www.kidscanpress.com/Canada/Scaredy-Squirrel-at-the-Beach-P6094.aspx
Summary
In August 2013, Scaredy Squirrel at the Beach was selected as an iTunes Book of the Week. As the first children's title to be selected, it was difficult to know what to expect in terms of downloads and conversions from free to paid ebooks. Kids Can Press hired Boxcar Marketing to run an online awareness campaign to generate downloads.
Client Quote
"Monique knows that social media tools like Facebook are constantly changing and she alters tactics just as fast to stay on top. We have worked with Monique on various campaigns and have come to rely on her expertise, attention to detail and enthusiasm. She has ensured that our online advertising campaigns were working to build the brand and drive people to our ecommerce partners. We couldn't be more pleased with the results, in particular reaching 10K fans on one of our Facebook Pages.
Monique is an absolute pleasure to work with." —Naseem Hrab, Marketing Director, Kids Can Press
Challenge
Unlike other online marketing campaigns Boxcar Marketing has run for Kids Can Press, in this case we needed to direct traffic from online ads and promotions to the iTunes store, which is a bit of a schmozzle. At the time there was no way to link to a web version of the page so that consumers could see the book detail description, cover, author bio or other pertinent information. Instead they were presented with a pop-up (that looked very much like an system error) requesting the user launch iTunes. We needed to ensure the ad copy was enticing yet cautionary. This worked surprisingly well given the subject matter was Scaredy Squirrel.
The second challenge was that Scaredy Squirrel at the Beach was the free Book of the Week Aug 5-12, and the 5th happened to be a holiday Monday so we were uncertain of the attention and downloads we could expect on that day.
Plus, it was unclear how many downloads we could expect overall and whether those downloads would result in sales of other titles.
The last challenge was that the campaign needed to target people interested in kids ebooks who also had an iPad or iPhone.
Approach
The online advertising campaign consisted of Facebook, Reddit and Google ads, with some split testing of CPM vs CPC, and consumers vs trade audience. We also ensured there were organic posts on the Official Scaredy Squirrel Facebook page, Twitter and in the email newsletter during the campaign period on Tuesday, Friday and Sunday. These posts alternated with posts on partner sites on Wednesday and Thursday.
And we worked on some clever ad copy that would attract the Scaredy Squirrel fan and warn them of the confusing next steps in the iBookstore process. The cover image of the book was used along with eye-catching interior spot images of Scaredy planning, reading and waving.
WARNING!
This ad launches iTunes where you'll download your FREE Book of the Week.
FREE Book of the Week
Don't be afraid! Scaredy Squirrel at the Beach by Mélanie Watt is free on iBookstore.
In order to attract people interested in Kids ebooks who also had access to the iBookstore we used broad categories and precises interests in the Facebook Power Editor to display the ads only to people who had ebook-related interests, liked children's literature and related pages, and were parents of school-aged children.
Results
The campaign generated over 19K clicks, garnered more downloads than expected (sorry I can't share those numbers with you, but it was very, very successful) and resulted in over 1K new Facebook Page Likes for Scaredy Squirrel.
Completed on August 2013

Think Independent Contest Promotion

Contest promotion for Think Independent
www.facebook.com/49thShelf
Summary
Think Independent, a national campaign organized by the Literary Press Group to promote independent booksellers, teamed up with Boxcar Marketing's client 49th Shelf to offer Canadians a chance to win some of summer's best new books.
Client Quote
"We're thrilled with the results of our Think Independent contest, hosted by the 49th Shelf. Given their direct-to-consumer reach, it was a no-brainer for us to team up with them for the online portion of our awareness campaign. We're looking forward to working with them again in the future."—Tanya Snyder, LPG Marketing Manager
Challenge
Independent booksellers across Canada were asked to pick their favourite new books being published by Literary Press Group (LPG) members during the 2012 spring/summer season and to highlight them in their stores to celebrate and support independent publishing in Canada.
49thShelf.com, which is dedicated to celebrating and supporting Canadian-authored titles, was a perfect partner for the online component of this campaign. LPG provided 49th Shelf a summer reading library, valued at $250, and in turn 49th Shelf used Facebook and Twitter to promote Think Independent through an online contest that asked fans to identify their favourite Canadian independent bookstore.
The goal of this campaign was to increase awareness of the larger Think Independent campaign and to get Canadians thinking about and supporting local bookstores and the Canadian publishing industry.
Approach
In working with 49th Shelf, Boxcar Marketing coordinates and administers quarterly campaigns and consults on overall marketing and online activities for the site. Over the past year, the team has taken an integrated approach to online marketing, which includes a well thought-out editorial calendar and experienced community managers creating and curating digital content on a daily basis. For the purposes of promoting Think Independent, Boxcar Marketing chose a 2-week Facebook contest that was supported through cross-promotion on Twitter and 49th Shelf's other online properties.
Our promotional strategy was to:
Create a new contest announcement
Tie entry online to offline activities
Amplify the Think Independent message, and
Interact with the community
Results
Contest Landing Page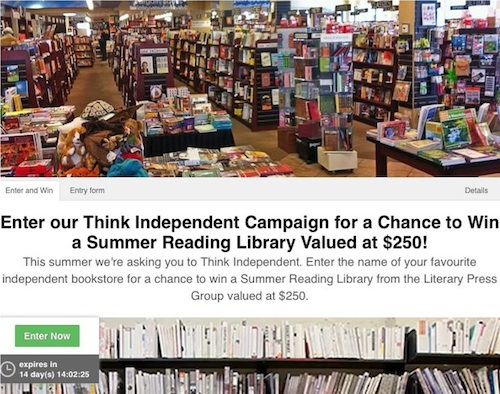 Contest Entry Form

Social is a core component of all Boxcar Marketing initiatives, and as the marketing arm of 49th Shelf, our role in this campaign was to analyze the social media presence, develop and executive the promotional campaign, and provide strategic direction pre-, during and post-campaign. The results were as follows.
1. Increased Engagement with Announcements
49th Shelf fans are highly active on Facebook and Twitter, and book announcements, guest interviews, reading lists and contests frequently receive comments, feedback, tweets and likes. The formula is a simple, clear announcement with great photos and seamless promotion between all social media properties. Recent announcements averaged 13K engagements per post, with contest announcements being higher.
To ensure the contest was fun for fans and had good flow from contest entry form to ballot submission, Boxcar Marketing used the Antavo Promotions Builder to create a dedicated tab on Facebook.

We crafted daily contest posts for Facebook and Twitter during an initial announcement period to ensure greater reach, and then alternated contest messaging with our regular programming for the remainder of the campaign. Rather than simply reminding fans of the contest, the Facebook posts used different photos and messaging to promote the Think Independent campaign in a variety of ways.
2. Drove Offline Engagement
49th Shelf's social channels facilitated consumer participation both online through the contest entry, comments, likes and shares, but also offline through store visits and awareness of the Think Independent displays and campaigns at participating bookstores.
3. Amplified the Think Independent Message
By partnering with 49th Shelf, LPG was able to amplify their Think Independent campaign and connect with an even greater number of people. All of whom are prospective purchasers of LPG-member published titles.
LPG is a not-for-profit association of Canadian literary book publishers. Although it has a social media presence, LPG's main functions are to act as an advocate for its members to various government and funding bodies; provide members with a sales force that represents them to the Canadian trade book market; provide access to advertising opportunities; and create and implement group sales and marketing initiatives.
As a business-to-business entity, LPG's own social media presence is limited in comparison to that of 49th Shelf, which has a business-to-consumer focus. With just under 4,000 Facebook fans, in comparison to LPG's 400, 49th Shelf was better positioned to spread that message to Canadian readers.
4. Interacted with the Community
Canadians are passionate about all things Canadian, in particular Canadian authors and publishers. This simple, 2-week contest had a 28% conversion rate and motivated fans to interact with the page, offered incentives to share the campaign message with friends and fostered an on-going conversation about great summer reads.
The winning entrant Natalie H. had this to say:
"Thank you so much for the wonderful news! I can't wait to dig in to some new reads. Independent publishing and independent bookshops are incredibly important to the Canadian literary landscape and I am delighted that 49th Shelf and LPG collaborated on this contest."

If your organization could benefit from an integrated online/offline campaign, consider creating a contest promotion to turn passive followers into engaged fans. The key is to experiment with campaigns and promotions like this in order to understand what resonates most with your audience and what elements you need to run successful campaigns.
Completed on August 2012

Read Local Campaign Promotion

Promotion for 49th Shelf's Read Local campaign
49thshelf.com/map
Summary
49th Shelf, an online community dedicated to celebrating and supporting Canadian-authored books, worked with Boxcar Marketing to encourage people to go local with their summer reading, with the 100-Mile Book Diet and 49th Shelf's Read Local Map.
Client Quote
"Read Local was our most successful campaign to date and perfectly illustrates the role the site can play in providing readers with new ways to discover Canadian books. Boxcar coordinated an expanded marketing team for the campaign and they executed beautifully with results well beyond our original targets."—Craig Riggs, Turner-Riggs, 49th Shelf project lead.
Challenge
With the Read Local campaign, 49th Shelf wanted to celebrate the distinctly Canadian places represented in Canadian books by having people pin books to a location on a map. Books could be added because they were set in a specific place or they were about a specific place.
The idea was to take 49th Shelf's community of avid readers and extend its reach with a fun, interactive book map.
The goals of the campaign were to generate awareness of the Read Local Map, extend 49th Shelf's appeal to a wider audience and encourage Canadians to read Canadian books.
Approach
As 49th Shelf's marketing arm, Boxcar Marketing coordinates and administers quarterly campaigns and consults on overall marketing and online activities for the site. Read Local had a number of campaign elements that we had to coordinate. As part of Read Local, we:
Contributed to marketing and usability planning for the interactive map. The map was built by Mugo Web using Google Maps API and needed to have a number of key functions, including the ability for users to add books by clicking a location on the map and the ability to search for books by region.
Coordinated with Vancouver-based PR Strategies and Toronto-based McGrath Communications under the Boxcar Marketing umbrella, to develop a media pitch that would attract national media outlets.
Created and executed a promotional strategy to generate awareness of Read Local on 49th Shelf's social media channels. For the purposes of this campaign, we choose to run Facebook ads along with a 2-week giveaway on the site where people who pinned a book on the map could enter to win a Kindle Touch 3G and a $50 gift card to put towards ebooks.
Results
Read Local Interactive Map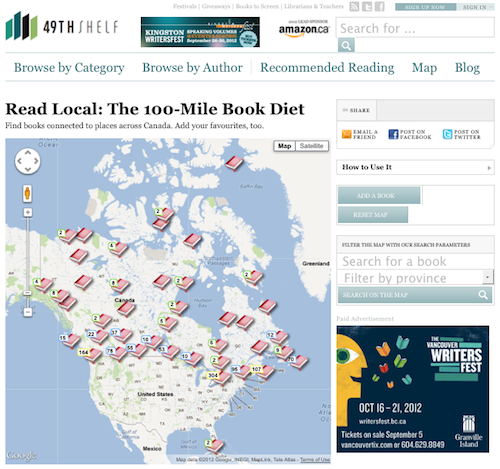 Title Listing on the Read Local Map

Boxcar Marketing's role in this campaign was to coordinate the media pitch, develop and execute the promotional campaign, and provide strategic direction throughout the duration of the campaign. Based on our goals, the results were as follows:
1. Secured media coverage for Read Local and the 100-Mile Book Diet.
We secured coverage in major media outlets, including live TV interviews on CTV Canada AM and Global Television. We also had CBC Radio interviews on 8 different regional stations and had coverage in numerous publications, include Toronto Star, Chatelaine.com, Christian Science Monitor and the Canadian Free Press.
2. Drove online engagement and generated interest in the Read Local Map.
49th Shelf has a very active Facebook and Twitter audience so we focused our online promotion on these channels.
Our posts on Facebook and Twitter promoted both the giveaway and the map. We posted a variety of content, including a "Pin of the Day" to recognize fan contributions.
3. Generated awareness of and interest in 49th Shelf.
Having launched 3 months prior to this campaign, a primary goal of Read Local was to increase awareness of 49thShelf.com by driving people to the site and encouraging them to sign up for a 49th Shelf membership to receive the monthly newsletter.
All media coverage we received directed people to the website to check out the map and explore 49thShelf.com. The Facebook ads and social media outreach also directed people to the website.
Through Facebook ads, the media coverage we received and social media engagement, there was a +173% increase in unique visits to the site during the campaign period, as well as a +560% increase in member signup.
4. Encouraged Canadians to Read Canadian Books.
49th Shelf's overarching mandate is to encourage Canadians to read Canadian books. Each book title listing on 49thShelf.com has links to buy the book either on Amazon, Indigo or an independent bookstore. During the Read Local campaign, clicks on these links to buy books increased by +178%.
For tips on running your own media outreach campaigns, watch our Outreach and PR 1-Minute Marketing Videos:
Completed on June 2012

49th Shelf Rebranding Campaign
Online Marketing Campaign for the Rebranding of 49th Shelf
49thshelf.com
Summary
49th Shelf, an online community for Canadian books, operated in beta for 6 months as Canadian Bookshelf but wanted a new, unique name for its full public release.
Boxcar Marketing was hired to develop and execute a marketing strategy that would raise awareness of the new brand and drive traffic to the new site.
Client Quote
"Boxcar Marketing has been—and is—instrumental in the development and execution of the online marketing program for 49th Shelf, and in the optimization of the site for search and usability. They are savvy, adaptable, and up for a challenge and are, to say the least, a real pleasure to work with."—Craig Riggs, Turner-Riggs, 49th Shelf project lead.
Challenge
Canadian Bookshelf launched in beta in June 2011, and the public and industry response far exceeded expectations—fans were excited about the community and actively participating by creating reading lists on the site and engaging on Twitter and Facebook.
As the site gained momentum and larger partners came on board, the online book community needed a namespace that was unique to the community. When the site was in the process of moving from beta to the full public release, it seemed like the best time to announce the new name.
The name "49th Shelf" is of course inspired by the 49th parallel, a defining geographical feature of Canada that literally and metaphorically forms part of Canadians' collective identity. As the site is the largest collection of Canadian books ever assembled, the name also conveys the idea of a virtual bookshelf, where all the books are held.
Our goal with the rebranding campaign was to raise awareness of the new name and reinforce the new brand. We also wanted to drive new traffic to the site, retain the majority of the existing audience and encourage user engagement on the site.
Approach
Responsible for coordinating and consulting on the overall online marketing program and activities for the site, Boxcar Marketing worked with 49th Self's programming and editorial team to develop a multi-level campaign for the rebrand of the site.
Our marketing strategy was to:
Implement SEO tactics to boost the visibility of the new site.
Create a sharable message that would spread online.
Interact with and build excitement among the community.
Results
New Logo


Rebranded Website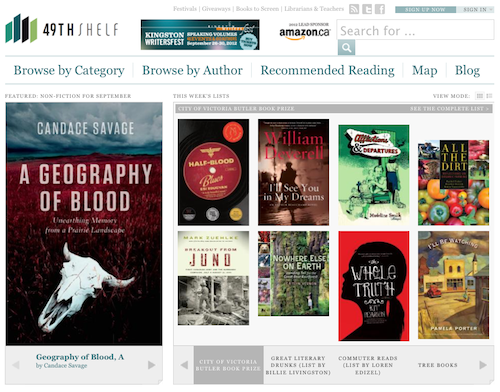 Boxcar Marketing's role in this campaign was to provide strategic direction for the rebrand, including SEO guidance and identifying the core audience in order to develop and execute a promotional campaign that would resonate with the community.
1. Raise awareness of the new name and reinforce the new brand.
Although Canadian Bookshelf was still in beta, the site had a large following and we wanted to introduce the new name as positively and seamlessly as possible.
We sent an email newsletter to members the morning of the name change, announcing that the site was going into full public release and that it would be operating under a new name. We wanted to make sure to get this message out to members first because they were the early supporters of the site.
We also had a press release go out and contacted key bloggers individually to let them know about the new name.
As part of the announcement, we created various I Heart Canadian Books badges and encouraged people to post the badges on their websites to show their support of Canadian books. By using a pro-Canadian books message vs a branded 49th Shelf message, we were able to get much more support from fans and bloggers.
2. Drive Traffic to the new site.
A large part of the campaign was to drive new and repeat visitors to the site to explore new site features, which included enhanced listings for Canadian ebooks, new search functions within the Recommended Reading Lists and members-only contests and giveaways.
Since the website had a new domain name, we coordinated with the programming team to set 301 redirects to ensure that the site continued to be indexed by Google. We also wanted links and shares from fans in order to establish social proof among the book community.
Due to the media pickups from the press release, online chatter and mentions in social media we increased visits to the site during the relaunch campaign by +225% and increased pageviews by +430%.
3. Retain the majority of the existing audience.
Canadian Bookshelf had a very robust Facebook fan base. Unfortunately, unlike Twitter, at the time Facebook didn't easily allow you to change your username so we had to create a new Facebook page for 49th Shelf and request that fans transfer over to the new page.
The old Page had +1200 fans and we wanted to retain at least 90% of this audience by encouraging them to move over to the new Page. As an incentive, we ran a Facebook contest and once people became fans of the new Facebook Page, they could enter to win $149 towards Canadian books. The contest ran for a 2-week period and was promoted on Twitter and through Facebook ads.
Within 2 weeks, 96% of fans had transitioned over to the new Facebook Page.
4. Encourage user engagement.
As an online community, 49th Shelf has members-only features, such as the ability to create reading lists and review books.
One of the site's overall goals is to continue to increase its membership base. 49th Shelf sends a regular newsletter update to members and members engage with the site a much higher level than non-members. During the week of the rebrand campaign, we increased member signups by +1069%.
Completed on February 2012

University of Ottawa Press eBook Marketing Strategy
eBook Marketing Strategy for University of Ottawa Press
http://www.press.uottawa.ca/
Summary
University of Ottawa Press (UOP) is Canada's oldest French language university press and the only bilingual university press in North America. The Press has an ecommerce site and is actively selling ebooks and print books through various online and offline channels. UOP requested that Boxcar Marketing provide an independent audit of their marketing initiatives and provide strategic recommendations for improving sales, in particular awareness and sales of their ebooks.
Client Quote
Boxcar Marketing performed a Social Media Marketing Audit and a Google Analytics Audit that examined where UOP was today, what could quickly be improved and what long-term planning was needed. Monique and Crissy provided 4 reports and one-on-one sessions on the usability of our website, goal tracking in Google Analytics, SEO & Meta Data, competitor analysis and eBook marketing. This was a helpful process for our press and many of the recommendations were implemented. —Rebecca Ross, Digital Content Manager, University of Ottawa Press
Challenge
UOP wanted an online marketing consultant to provide direction for their online marketing efforts. Boxcar Marketing was hired to provide strategic recommendations for where UOP could improve their marketing initiatives and provide direction on outreach and other online marketing tactics in order for UOP to reach its stated goals.
UOP wanted to increase its online presence and ebook sales. They also wanted to find ways to drive more traffic to the website and reach new markets and customers.
Approach
We approached this project in the following 4 phases:
1. Research
We performed a marketing audit that examined where UOP was today, what could quickly be improved and what long-term planning was needed.
Next, we undertook a competitive analysis to understand what UOP's competitors were doing and to see what opportunities and challenges existed.
We then researched UOP's audience and determined how audience groups could be fostered and drawn more regularly to the website.
2. Website and Conversion Optimization Audit
We performed a Website SEO Audit that looked at their website in terms of design and functionality, content, information architecture and search engine optimization (SEO) and provided recommendations for improvement.
Next, we did a Conversion Optimization Audit and looked at Google Webmaster Tools and Google Analytics to see how their site was performing and provided insights on audience behavior.
We also reviewed their social media networks and current outreach efforts and provided suggestions for maximizing the potential in these marketing channels.
3. Strategy Development
Taking information from phases 1 and 2, we developed strategic recommendations and concrete suggestions that supported UOP's primary and secondary goals. This included:
Strategy for increasing their online presence
Strategy for increasing ebook sales through online engagement
Ways to drive traffic to the website
Strategy for building social communities (increasing audience)
Content strategy for websites, blogs, social media and niche communities
Recommendations for systems and process such as editorial calendar, weekly activity plans and performance reports and statistics
4. Training
Taking our research, audits and strategic recommendations we trained UOP staff remotely on how to execute the strategy and tactics.
Results
The project resulted in a concrete online marketing strategy for University of Ottawa Press. This included training on how to implement the strategy as well as useful documents and checklists such as:
SEO checklist for ecommerce sites
Marketing campaign checklist for new titles
Tips for optimizing books for search as well as for Amazon
Online press release checklist
Tips and strategies for social media marketing platforms
Analytics KPI scorecard to use for tracking success
Tips for blog content and a sample editorial calendar
If your organization needs help developing a marketing strategy, free resources are available on the Boxcar Marketing blog under the categories internet marketing strategies and social media marketing how tos or please see our Services page for more information on Google Analytics Audits.
Completed on January 2012

OpenBook: Toronto External Online Marketing Review

Online marketing review and strategic planning for OpenBook Toronto
www.openbooktoronto.com/
Summary
OpenBook: Toronto (OBT) is an online organization funded by the Organization of Book Publishers of Ontario (OBPO) dedicated to the promotion and awareness of Ontario's books, authors and literary community. The OBPO commissioned Boxcar Marketing and Craig Riggs and Kiley Turner of Turner-Riggs to perform an independent business and marketing review of OpenBook.
Client Quote
"I am thrilled with this report; both the process and the report are immensely useful for Open Book. I think this review has resulted in excellent feedback and innovative, smart suggestions which we are eager to explore! All of the included information is useful to the Open Book project—immediately or for the future. I look forward to discussing the details with everyone."—Amy Logan Holmes, Executive Director of Open Book: Toronto and Open Book: Ontario
Challenge
Having completed its first three years of operation, the OBPO wanted an independent review of Open Book: Toronto and whether the project was meeting its goals; its impact and effectiveness on Ontario books and authors; and its strategies for growth and development in the greater Ontario market.
Approach
OpenBook: Toronto's goals are to increase the profile of Canadian authors and publishers—and the awareness of both among the general public, private funders, and institutions—and to expand the readership of Canadian books.
With these goals in mind, Boxcar Marketing and Turner-Riggs undertook the review in four phases:
Phase 1: Design, Discovery, and Secondary Research. The team completed a thorough review of OpenBook: Toronto's online presence, a review of its website analytics, and an environmental scan of OpenBook: Toronto's competitors.
Phase 2: Primary Research. OpenBook: Toronto team members were interviewed and OpenBook users were surveyed. The team also reviewed a recent survey conducted by Open Book.
Phase 3: Strategy Development. Looking at the primary and secondary research, Boxcar Marketing and Turner-Riggs developed strategic recommendations for OpenBook: Toronto. This included ROI opportunities, marketing strategies for community development, and online and offline measurements that can help OBT track program performance in the future.
Phase 4: Report Authoring. Boxcar Marketing and Turner-Riggs co-authored a report that summarized the review's findings and provided strategic recommendations for moving forward.
Results
The review was carried out between May 1 and June 30, 2010, and resulted in a 70-page review for OBPO, as well as a presentation of the findings to representatives from the board of OBPO and the Ontario Media Development Corporation.
Throughout the process, Boxcar Marketing was able to provide timely feedback and detailed instructions on how to fix a number of usability issues with the website. Both Boxcar Marketing and Turner-Riggs were also able to brainstorm with OBT several ideas for campaign and workflow enhancements.
All parties are really pleased with the action items from the report and are steadily working to implement changes according to an agreed upon prioritization.
Completed on August 2010

Internet Marketing Strategy Sessions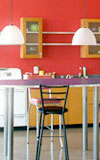 Internet Marketing & Strategic Planning for Businesses
Summary
Boxcar Marketing offers full and half-day internet marketing strategy sessions. We typically look at your business' current online activities, offer a review of best practices and help you create a strategic plan for driving traffic, increasing visibility and engaging with your keystakeholders.
Client Quote
Monique's session was informative and inspiring. We were left with a great action list that we have since used to optimize our website. E-commerce is up, site navigation has been improved and we have come away with lots of great ideas for improving our online presence and making our website a powerful - and profitable - part of our business. Monique is a delightful presenter with a huge amount of current knowledge.
—Andrew Wooldridge, Orca Book Publishers
Annick Press wanted to create a stronger internet marketing strategy, including broadening our knowledge base and creating an arsenal of tools we can draw upon, in particular strategies specific to book publishing. In a half-day session, Monique gave us tailored tips and suggestions invaluable to the success of our venture. Staff commended her on her infectious enthusiasm, her broad knowledge base, her professionalism, and her ability to help us understand and apply relevant concepts and strategies.
—Rick Wilks, Annick Press
I just wanted to pass on everyone's thanks. The office is unanimously in agreement that you provided excellent information and communicated it very effectively.
—Heather Nicholas, New Society Publishers
Thanks very much—we really enjoyed our session with you. It has helped to clarify our thinking and planning what to do next.
—Donna Livingstone, University of Calgary Press
Thanks again for a great session! You gave us more than I thought possible in such a short time. We've got lots to do and thanks to you some clear ways to start. You're the best!
—Robert Ballantyne, Associate Publisher, Arsenal Pulp Press
It was a great pleasure to meet you—you really are a delightful person and put across your information effortlessly. From the viewpoint of someone who is not very Web-savvy, your workshop couldn't have been more helpful or easier to understand. Your information is so useful and applicable.
—Ginny Miller, Marketing Coordinator, New Society Publishers
Challenge
Most businesses know they are doing some things well and other things poorly. Our goal is to identify what's working, what's not working, and what can be changed in the short term and long term to meet the business' objectives.
Approach
Most sessions require a week of preparation where Boxcar Marketing undertakes a review of the business' current website, traffic analytics, email newsletters, blog, twitter feed and other online activities.
During the session we look at the following:
Website Purpose and Goals

Assess whether the website meets the overall business goals and objectives
Identify key audience members online and offline
Review of the practicalities of site maintenance and updates
Review how staff currently interact with customers online now, and they would like to interact with customers in the future
Discuss how to build and sustain online traffic

Website Assessment

Site optimization
Quality of Content
Effectiveness
Site elements that work, elements that don't

Search Marketing and Online Advertising
Email Marketing and Online Publicity
Podcast, Video, Social Networking and Community Development
Strategic Direction, Recommendations and Future Planning
At the end of the session, participants will have a prioritized list of recommendations and an action plan for site improvements.
The session helps answer questions specific to each individual business. Common questions include:
What can we do to make our websites and newsletters more interactive or engaging?
How can we better engage with our customers and generate online conversation?
What should we be looking at in our web stats, how do we measure success?
Results
Clients have consistently reported improvements to internal workflow, site traffic, conversions, email newsletter sign-ups and online visibility, engagement and interaction.
Completed on January 2010

Namaste Publishing Website Redesign

The Re-Experience, Store Renovation and Community Expansion of Namaste Publishing
www.namastepublishing.com
Summary
Namaste Publishing, known as the publisher for leading authors like Eckhart Tolle, needed a website that would galvanize their community and more actively allow for authors, spiritual thinkers, staff and readers to interact with each other. Essentially, we wanted to bring the global spiritual community around the publications into an online environment where those connections could be better fostered.
Client Quote
"Namaste Publishing has always held to rigorously high standards in ethics, professionalism, quality publications, and service. Well, without doubt, we met our match in Boxcar Marketing.
"Monique Trottier, the President of Boxcar, won our absolute trust from the get-go. We were able to give her command of the ship and rest knowing that when the waters got rough, we were in the safest and most knowing of hands. She was able to take our vision and make it a reality. A consummate and exceptionally skilled professional, not only in her field of specific expertise but in Project Management, Trottier has exceeded our expectations and left us - but not really left us, as her mark will be on our new website and its expanded service area as long as it exists - in a state of deepest gratitude.
"Do we recommend Boxcar Marketing? You should be so lucky as to acquire their services."
—Constance Kellough, Publisher
Challenge
Namaste Publishing is a small, financially successful Canadian publishing house with a worldwide presence. Known as the publisher for leading authors like Eckhart Tolle, Namaste has a solid reputation for publishing transformative, leading-edge books on self-help, spirituality, alternative health and personal transformation.
Namaste's original website was built using flat HTML files and grew over the years as a disconnected collection of sites and blogs under Namastepublishing.com and various subdomains. Without standard navigation between interior pages, the site was difficult to navigate, and the key ecommerce functions required unnecessary steps to purchase products in the store.
Namaste's online presence needed a radical reinvention and expansion. The team wanted a deeper long-term engagement with their community of fans, authors, spiritual leaders and staff. The project required a full re-branding and entire re-experience and re-interpretation of what publishing meant for the company.
Screenshot of the Original Design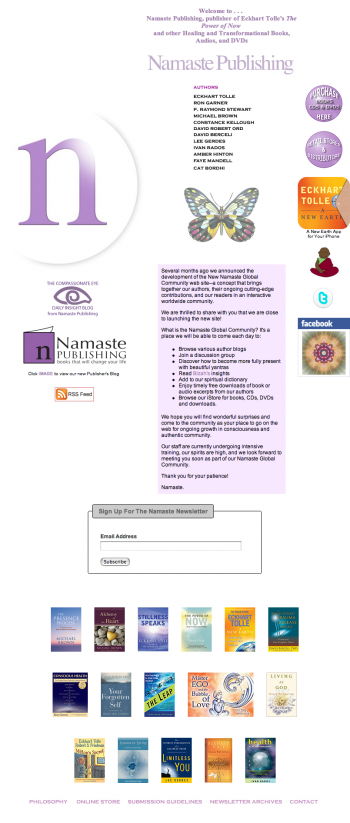 Screenshot of the New Site Launched March 11, 2010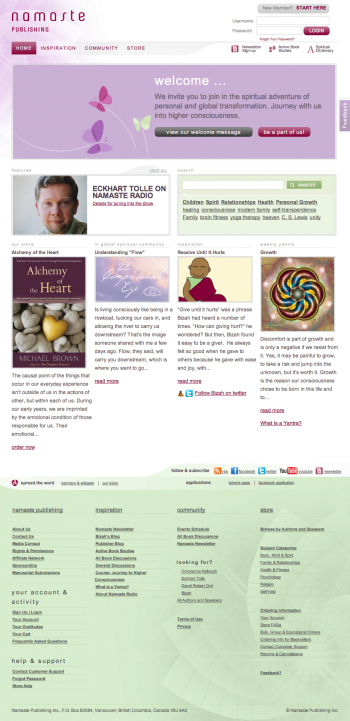 Approach
A re-design is more than just design.
Boxcar Marketing started with a month-long strategy session to convert Namaste Publishing's business from a traditional publishing company to the leader of a global spiritual community. Jordan Behan of Tell Ten Friends Marketing Co. and Boris Mann of BMann Consulting contributed their expertise during the strategy sessions and subsequent social-media training sessions. Once the team established the goals of the project, we sent out an RFP to various vendors.
Namaste Publishing's goals were:
To support and engage readers in an ongoing experience that deepens and adds richness to their understanding of the written materials.
To dispel the distance and 'one to many' dynamic between author and reader.
To distribute spiritual and inspirational information through new methods that are engaging, easy to understand, inspirational, fun and engage a wide audience.
To expand the commercial viability of the already-profitable online store without compromising the intentions and integrity of the informational and community aspects of the website.
As for technical requirements, Namaste wanted an easier system for publishing their content (events, blogs, store products), a more user-friendly online shopping experience, and support for online and offline groups that form around Namaste's publications (book studies and interactive courses).
In order to reach these goals the project was divided into 3 distinct but interdependent phases:
Phase I: Re-Experience
Namaste Publishing and Boxcar Marketing worked with Todd Sieling of Corvus Consulting on the information architecture, user experience, and interface design. Key to this phase, and taking the design lead, was Lift Studios, who provided the brand redesign (logos, business cards and other identity) and worked closely with us on the website redesign and desired user experience.
Old branding

New branding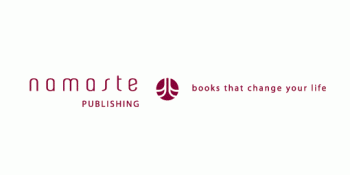 Phase II: Store Renovation
Boxcar Marketing's experience with publishers and online marketing primed us for taking the lead on the product page requirements that would remake the online store and improve usability for customers.
Old Store Pages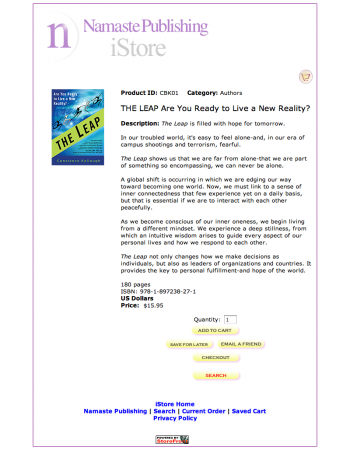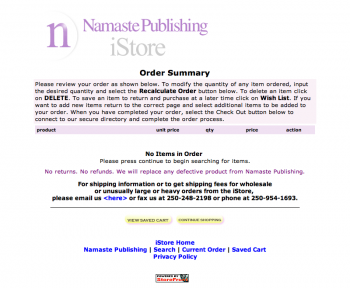 New Store Pages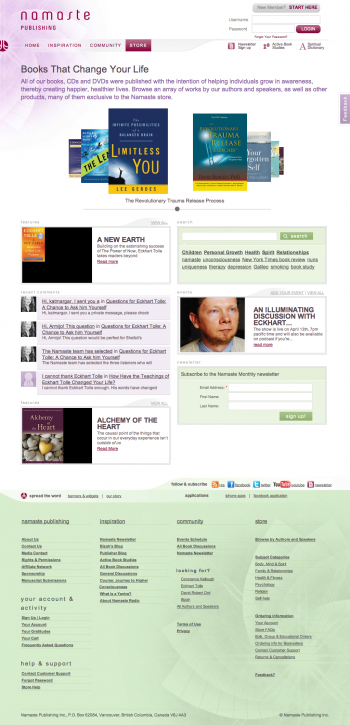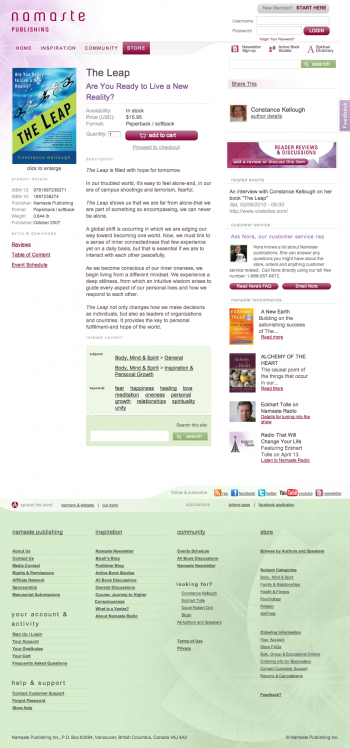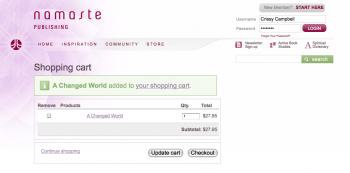 Phase III: Community Expansion
Namaste Publishing's connections to the global spiritual community are extensive and they wanted to build social web tools within the Namaste site, as well as actively participate in other online communities where their fans and customers gather.



Throughout the year-long project Boxcar Marketing and Namaste Publishing established practices for building and managing online communities, handling digital and print online sales, establishing online courses, such as The Journey to Higher Consciousness, promoting events, such as Namaste Radio, and incorporating the publisher and author blogs.
Boxcar Marketing, along with our expert partners, did extensive workflow planning, which translated to detailed wireframes that drove design and development decisions. But, of course, we would be nowhere without the guidance and amazing work of our Drupal development team from Raincity Studios. Raincity Studios turned our designs and user experience requests into the dynamic, fully functioning website.
Results
In summary:
Before
Flat HTML
Disconnected collection of sites & blogs
Outdated design
Difficult to naviagate
Unnecessary steps to purchase products
Disjointed communications
Limited access between community members
Limited marketing and community outreach
Feedback loops through traditional channels
After
Fresh design
Dynamic, community-oriented site
Social media integration
Easy to navigate
User-friendly store
Integrated communications (email newsletter, Twitter, Facebook, author blogs, publisher blogs)
Online collaboration and discussion between community members
Integrated marketing and community outreach
Feedback loops through traditional and online channels
Completed on January 2010

Raincoast Books Website Redesign

Development of a content management system and website for Canadian book distributor, Raincoast Books.
www.raincoast.com
Summary
Raincoast Books is an award-winning Canadian book distributor based in Vancouver, BC. As a fast, efficient and forward-thinking company, Raincoast needed a refreshed website design that allowed a non-technical team to manage content in an easy manner. The site needed to highlight client publishers while also providing book buyers, media, booksellers, librarians and the general public with book recommendations.
Client Quote
"Many marketing companies have technical skills, but few have the project management skills displayed by Boxcar Marketing. When Raincoast chose Boxcar to design and relaunch our website, we received the kind of expert outside perspective one hopes for but rarely gets. Boxcar took our goals seriously but then helped us prioritize our needs and made all sorts of timely interventions to help the project move ahead faster, more efficiently and on budget. Boxcar treated everyone in the five departments at Raincoast who was invested in the launch of the website with respect and with an intuitive sense of what issues needed broad discussion and which could be dealt with quickly. Each department now has ownership of the new website but the high design standards and very clean functionality is a testament to the fact it does not look like it was designed by committee. A very neat trick performed by Boxcar Marketing. I am still trying t figure out how they did it."
—Jamie Broadhurst, VP Marketing
"Boxcar has been a joy to work with. The redesign came in on time and on budget and the difference has been immeasurable. The site looks great, but more importantly all the behind-the-scenes wizardry is simple to use and it saves us so much time and anguish - it's made all of our lives easier! They never baffled us with science or talked down us, and on the odd occasions we've had a problem, Monique and her team have been right there to talk us through it in plain English. The whole experience has been so much less painful than we expected!"
—Dan Wagstaff, Online Sales and Marketing Manager
Challenge
Raincoast Books is an award-winning Canadian book distributor based in Vancouver, BC. Raincoast Books specializes in providing comprehensive sales, marketing and distribution services to a select number of international publishers. They distribute books on a wide range of topics including food, health, kids, pop culture, and travel, as well as notebooks, stationery and gift products. The Raincoast Books website uses book recommendations, contests, multiple blogs, email newsletters and special features to attract the attention of potential book reviewers, book buyers, book lovers and gift givers as well as prospective client publishers.
Raincoast wanted to update its websites (Raincoast.com and Blogs.Raincoast.com) to better communicate its fundamental strengths, including:
Competent, experienced sales, marketing and distribution staff
Excellence in technology use and marketing strategies
Capabilities in representing a distinctive blend of contemporary books from global brands and niche publishers across a range of subject areas
Advocacy for the environment, family, the pursuit of happiness, good design, beautiful books and, above all, caffeinated beverages (We've enjoyed many jokes with our friends at Raincoast.)
In short, Raincoast Books needed the new website to clearly showcase its values and proven record of delivering superior distribution services.
Approach
Boxcar Marketing worked with Raincoast Books to establish a strategy for organizing the content and melding the site architecture for the former sites (raincoast.com and blogs.raincoast.com) into a single comprehensive system that allowed for easy updating by non-technical staff. In addition, the new site needed to integrate with a legacy inventory management system used to generate product pages for a separate business-to-business ecommerce site (services.raincoast.com).
Project Goals
Create an attractive, navigable site by redesigning the CSS and templates for Raincoast.com and Blogs.Raincoast.com.
Design the site to be informative and current; flexible and simple to maintain; fresh and modern in appearance; user-friendly and easy to navigate; measurable; and optimized for search engines.
Implement a content management system(s) that can be independently maintained by non-technical Raincoast staff.
Maintain the existing level of integration between the Raincoast site and the B2B site.
Ensure the site architecture and content focuses on the services offered by Raincoast Books and represents the publishing partners and their books effectively.
Better represent Raincoast's services to publishing partners and prospective clients, generate leads and increase awareness and sales of Raincoast's books.
Meet the primary needs of publishing partners and consumers, as well as media, booksellers, librarians and sales reps.
Together with the Raincoast team, Boxcar Marketing reviewed the old site and competitor sites and discussed what worked and what didn't in order to plan the design strategy. We also examined the keywords actively used in searches for Raincoast Books in order to ensure the navigation headings and on-page text elements were optimized for search.
Boxcar Marketing then worked with Joslin Green of Play3r Industries to develop the home page and interior designs of the website. Development was handled by Eric Barstad of Shadow Box Creative Media. The Raincoast website is built in ExpressionEngine, which allows Raincoast staff easy access to all content areas of the site, making it easy to update, even for those with limited html knowledge.
Results
The Raincoast Books website went from HTML files to a fully functional website driven by a content management system.
Before
Static HTML
Heavy, outdated design—dark colours, cramped typography
Page headings were images not text - limited SEO opportunities
Hero images took up too much space on the homepage and looked like advertisements and were ignored
Before Homepage Screenshot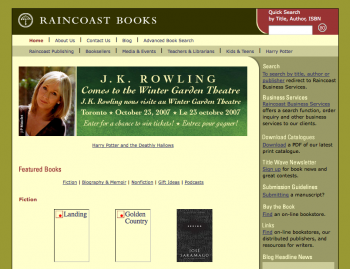 After
Fresh, contemporary design
Blue links that encourage visitors to click
Nice AJAX features that expand book listings to full view
Social media integration—prominent links to social media sites; tweets are pulled in on the right sidebar
User-friendly and easy to navigate
Search optimized pages.
Publishing partners and their books are presented more effectively
Raincoast's services for client publishers are more clearly represented
Homepage Screenshot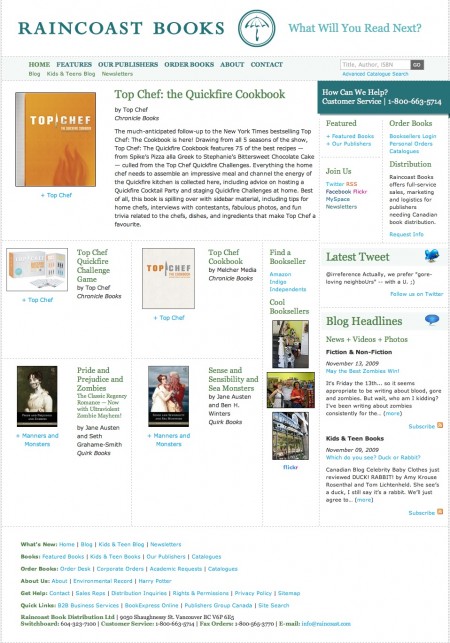 Interior Page Screenshot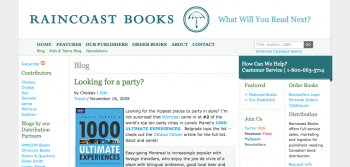 EE WYSIWYG Screenshot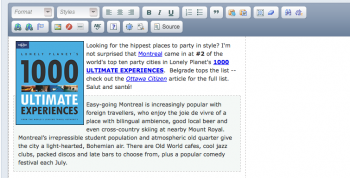 Completed on November 2009
Completed on November 2009

BookCamp Vancouver: An Unconference Connecting Books and Technology

Organizer of BookCamp Vancouver
bookcampvan.pbworks.com
Summary
Boxcar Marketing, along with John Maxwell at SFU, Sean Cranbury of Books on the Radio, and the fine folks at BookNet Canada, organizes BookCamp Vancouver, an annual unconference that brings publishers, educators, community builders and the tech community together to explore the future of books and book-like technologies.
Client Quote
"I would recommend it. It brought together elements of the book world who generally don't mix. And the energy was like a cocktail of electricity and tonic."—Robert Chaplin, Library Editions
"I would highly recommend Book Camp. I had a great time and began to rethink some of my ideas around how publishing will work in the future. The only thing that I wished to change was the fact that I could not be in the room for every presentation!"—Leanne Prain
Challenge
The publishing industry is going through a period of immense change—new technologies are attempting to replace "the 'book", the way individuals read and relate to content is in flux, and publishing business models have to be re-evaluated. BookCamp Vancouver is a chance to bring together thought-leaders from various backgrounds to share ideas, spark discussions and find ways to respond to these changes.
Approach
Held in October, BookCamp Vancouver is a day of talking and doing. Attendees come from all over Canada and from a variety of backgrounds, including authors, librarians, technologists, typographers, designers, developers, printers, booksellers, literary agents, and publishers.
Through panel discussions, networking and audience-chosen sessions, BookCamp is a chance for the community to share ideas and engage in conversation to explore the future of the book and to discuss future book technologies, business plans and workflows.
Results
BookCamp Vancouver is a free conference made available by the fine support of the publishing community. The Canadian Centre for Studies in Publishing provides the rooms at SFU and BookNet sponsors the lunch and coffee breaks. The rest is done by the sweat and enthusiasm of many student volunteers and a core group of organizers.
The inaugural BookCamp Vancouver was held October 16th, 2009, and we had 250 people registered for the conference within days of its announcement.
Feedback following the event was exceptional:
"I really enjoyed myself and left feeling inspired, empowered, and actually hopeful. It's great to spend time with like-minded people, and people really were very friendly."—Rachel Fox, @FoxMe
"It ran incredibly smoothly, the sessions were terrific, and the level of participation made it all the more worthwhile."—Kim Werker, LexPubli.ca
"I liked the short sessions, the encouragement of discussion rather than lecture (this doesn't always work, but in a room full of smart & articulate people it sure does), and the generous breaks in between, so as to keep the talk going, say hi, meet new folks, etc. I learned lots as a civilian, and also as a teacher—the day was an eye-opener for MPub students. They found out for themselves how many points of view there are and how willing our colleagues & friends are to share insights and work together to sort out technological, legal, intellectual issues. In general they got lots of encouragement to think creatively, cooperatively & critically, and to try stuff."—Mary Schendlinger, SFU MPub.
Completed on October 2009

Wellness Checkpoint PPC Campaign

Google Adwords Search Marketing Campaign for Wellness Checkpoint
www.wellnesscheckpoint.com
Summary
Wellness Checkpoint's website had limited presence in search results for terms directly related to its core service of health risk assessments. The health industry is a competitive market space with a large volume of online advertisers. The project goal was to make Wellness Checkpoint more visible in this market, in particular by improving their pay-per-click campaign.
Client Quote
Thanks Monique! You are a true SUPERSTAR in search marketing. Your work is impeccable, you're a pleasure to work with and you deliver spectacular results. I've been very impressed with your professionalism and absolute brilliance throughout this project. If you should ever require a reference, you can always count on me.

—Mark Tisdale, VP Sales & Marketing
Challenge
The Wellness Checkpoint website had limited visibility for targeted keywords in search results and paid listings.
"Health risk assessment" is a competitive online search term. There is a large volume of advertisers who are competing for similar and related keywords, which means in most cases Wellness Checkpoint's ads were ranking 4th, 5th or 6th in search results.
Their existing pay-per-click strategy, at a limited budget (less than $1000 per month), needed to include a wider variety of carefully selected terms and geographic target areas.
PageRank was 2/10, and although not a perfect indicator of a site's health, it was one sign that relevant, industry-appropriate partners and links to the site should be increased.
Approach
A typical process for Boxcar Marketing's Search Marketing services involves the following:
Research, analyze and identify the language or word choices Wellness Checkpoint's clients and potential clients use in their search behaviour.
Develop landing page content or website architecture that matches those clients' expectations.
Identify new opportunities to increase targeted traffic to the site.
Optimize and refine all pay-per-click campaigns.
Results
By carrying out extensive keyword research, Boxcar Marketing was able to provide Wellness Checkpoint the following:
Maximized online presence in organic search listings and optimize presence in paid listings. (i.e., We helped them get the "best bang for the buck.")
Provided strategic direction and education on search marketing campaigns:

Keyword research and analysis
Optimization of existing campaigns (paid and organic)
Recommendations for future search campaigns (paid and organic).

Improved website copy and ad copy to generate higher conversions.
Week 1
Traffic to the website increased by 89.9%.
The ads were showing with the same frequency (impressions) as they were before. But the new ad copy was more relevant and more people clicked on the ads. The click-through-rate (CTR) increased by 100%.
By refining the bid management, the average cost per click (CPC) decreased by 20.9%.
Month 1
In one month new registrants to the site increased by 48%
Project End (3 Months Later)
The campaigns' average click through rates were between 2% and 6%.
Click through rates at the ad group level were between 2% and 22%
The average ad position was between position 1 and 4
Page rank was brought up to 4
80% of the site traffic is now coming from search engines, in particular from the search terms "health risk assessment", "health assessment", and "health appraisal".
Completed on June 2008

Official Community Plan: District of Ucluelet Wiki

Development of an Official Community Plan Wiki for District of Ucluelet
Summary
The District of Ucluelet is located on the West Coast of Vancouver Island near Tofino. In 2008 the District of Ucluelet underwent an extensive review of their Official Community Plan. To encourage greater feedback from the people of Ucluelet and to engage the community at large, the District wanted to add an online component to this process.
Client Quote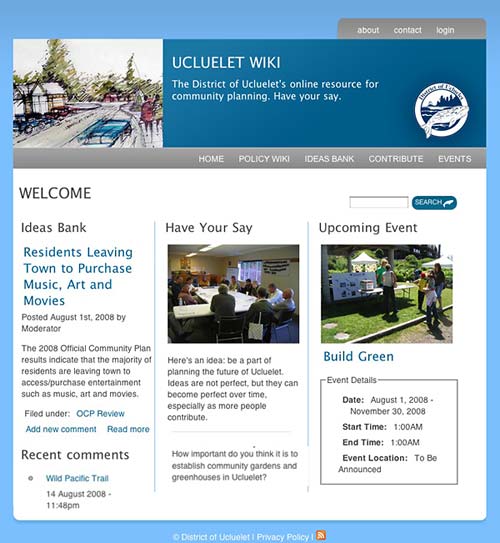 Challenge
The District of Ucluelet wanted to take a fresh approach to gathering feedback and input from the community regarding the Official Community Plan, a 65-page document covering a wide range of subjects related to planning.
In previous years, community members gathered in town hall meetings and at various planning sessions, but this process did not accommodate residents who were occupied or away during the planning stages.
The project challenge was to make the Official Community Planning document available online for people to download at any time of the year, but also to create an online forum for discussing the plan year round. The District was seeking to transform the OCP document into a more organic document for people to comment upon and even edit.
Approach
The goals were as follows:
Create a design consistent with the existing Ucluelet site but with its own look and feel.
Create a site that was more interactive to encourage feedback from the public.
Implement a content management system to run the wiki.
Provide an online forum for the people of Ucluelet to voice their opinions on the Official Community Plan.
To meet these goals we:
Worked out layout options based on content provided by the District.
Created a calendar to showcase community events where people could meet the district planners.
Set up the "Ideas Bank" blog and polls for community engagement.
Implemented Drupal as the content management system for the wiki.
Established a Flickr set for Ucluelet photos.
Results
Since the website's launch in June 2008, members of the Ucluelet community have regularly participated in online polls and are engaged in commenting and discussing planning issues on the website. The model is being adopted by other communities and will continue to be used by the District of Ucluelet.
Note Jan 2012: the original site is no longer in use so the links are removed from this post, but we felt that it was still a useful project to highlight as it was a unique approach for urban planning at the time in 2008.
Completed on June 2008

Agriteam Canada Website Redesign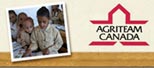 Content Management, Site Architecture & Website Redesign for Agriteam Canada
www.agriteam.ca
Summary
Based in Calgary, Alberta, Agriteam Canada was established in 1987 by Robert Francis, and has since conducted more than 170 projects worldwide in sectors including health and population; gender equality; education and education reform; agriculture and agribusiness; community development; governance and public sector reform; private sector development; legal and judicial reform; corporate social responsibility; and environment.
In 2008, Agriteam wanted to update their existing website to better communicate the fundamental strengths of their organization, showcase its values as well as its proven record of delivering successful and sustainable project management.
Client Quote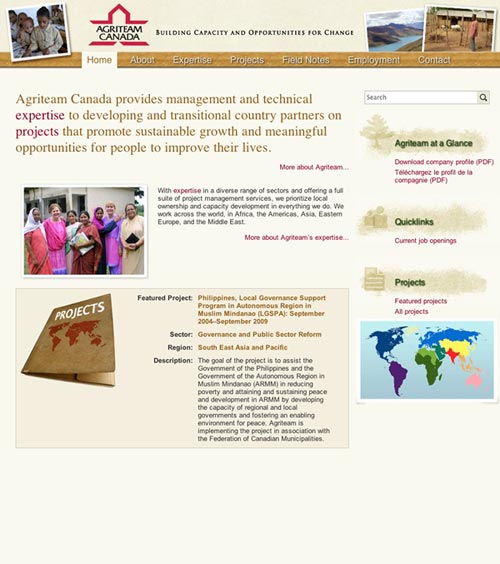 Challenge
Agriteam had an outdated website that did not appear in search engines and was confusing for users wishing to locate key information. The team needed to improve their online presence in search engines and raise the profile of their projects. In addition, Agriteam needed their website to showcase the types of projects they work on in collaboration with developing and transitional countries.
Approach
Our project partner, Kiley Turner of Turner-Riggs, worked with Agriteam employees to develop updated copy that concisely highlights Agriteam's strengths in project development and management, as well as their emphasis on collaboration and teamwork. Boxcar Marketing updated the website's information architecture so that key data was current, well presented and digestible.
Design/Development: Custom Website Design, XHTML/CSS Coding, Content Management System, Website Maintenance
Results
The result is a professional-looking site that is easy to navigate. Boxcar Marketing ensured that Agriteam's expertise was clearly highlighted and established their work beyond the agricultural sector. We designed the site to be attractive to governments and NGO partners alike, and we profiled the people involved to add a personal tone to the work but also to instill pride amongst the funders, staff and field officers. We ensured that the projects are well organized on the page and are searchable by sector or by region. Subtle details in the front-end design and back-end development allow for an easy-to-manage site.
Completed on June 2008

BC Book Prizes Website

Website redesign for BC Book Prizes
www.bcbookprizes.ca
Summary
The BC Book Prizes, established in 1985, celebrate the achievements of British Columbia writers and publishers. The seven Prizes, plus The Lieutenant Governor's Award for Literary Excellence, are presented annually at the Lieutenant Governor's BC Book Prize Gala in April.
The BC Book Prizes Society needed a website re-design that would feature the vast extent of archived information on previous years' prize winners and finalists. In addition, the Society wanted a website that would allow for greater interaction between finalists and BC communities.
Client Quote
Liesl Jauk, Executive Director, BC Book Prizes says:
"You guys absolutely rock! I can't believe how great our site looks. I keep going back to look at it. Gawd, I love it."
Challenge
BC Book Prizes' previous website lacked usability because it was a series of static HTML files with limited navigational aids, which hindered visitors' ability to find new and archived content.
In addition to needing a robust site with better navigation and search functionality, the Society recognized the need to have a more interactive component to the site. BC Book Prize finalists tour the province meeting with community members and promoting BC writing but the previous website did not offer a way to gather feedback.
Approach
Boxcar Marketing spent time talking with the BC Book Prizes Society about the goals of the site and the operational side of managing the Prizes. Together, we prioritized our goals and determined our internet marketing strategy.
BC Book Prizes wanted to create a site that:
Celebrates the achievements of BC writers and publishers.
Highlights the great activities and tour destinations of the BC Book Prizes tour.
Allows for interaction between finalists on tour and members of the public.
Extends the promotional opportunities for BC Book Prize finalists by using social media tools, such as Flickr.com.
Reduces website administrative time.
By developing the site using Expression Engine, a great content management system for websites, we were able to design a content architecture that accommodated the vast amount of information on prizes from 1985 forward, as well as decrease the administrative time needed to maintain the website.
We created a blog for the Tour, allowing authors on tour to interact with libraries, schools, media and the general public in advance of their appearances and post-tour. Communities who are not on the tour route can also follow the tour virtually and interact with the finalists.
Because Expression Engine is a content management tool, we were also able to develop an online mechanism for gathering prize submissions (approximately 400 per year) and handling online event registration, all tasks that were previously done by mail and fax.
Design/Development: Custom Website Design, XHTML/CSS Coding, Content Management System.
Our Team: Joslin Green (Design) and Shadow Box Creative (ExpressionEngine Development).
Results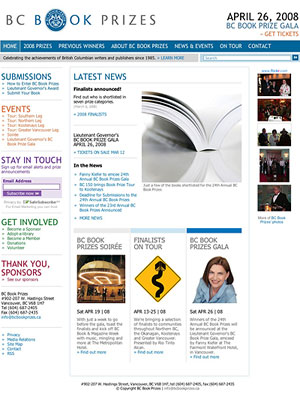 Boxcar Marketing improved the site navigation structure to make content easy to find. We used colour to break-up text-heavy content, while maintaining the corporate colours. We also developed back-end workflows to reduce manual work to maintain the site and integrated social media tools such as Flickr and ConstantContact.
The BC Book Prizes website is now a true showcase for BC Book Prizes' authors and publishers. Information is clearly displayed and visitors to the site get a complete understanding of the extensive work the Society does to celebrate BC writing.
The website launch coincided with the March announcement of the 2008 Prize Finalists and the feedback from the community was incredibly positive:
"The new site looks amazing!"
"Congratulations on the new website. It is superb! While there's lots of information, this site has 'fun' written all over it. Good going."
"Love the new site design."
"WOW"
In 1 month since the site launch, the BC Book Prizes' combined online and event activities generated substantial interest in the site, especially the author On Tour blog.
Visitors to the On Tour blog left 50 comments on 70 articles.
Activity on the BC Book Prizes site is seasonal: interest increases during March and April when the finalists are announced, the author tour starts and the winners are announced.
Web statistics are not available for previous years for comparison, but we can see that traffic increased 450% from January (pre-announcement of finalists) to April (announcement of winners).
BC Book Prizes offered the following numbers:
How big was it? Here are a few quick stats.
Total number of events: 64 (not including the Soiree and Gala)
Number of communities visited: 27 in two weeks
Number of events in schools: 47
Number of schools that will receive a $500 library of BC Book Prize titles for their library: 24 (thanks to the support of donors)
Participating finalists: 17
Combined honoraria and per diems going directly to these artists: $18,040
Estimated combined number of kms traveled, by air and by land: 8,300 (that's about the equivalent of driving to Ottawa and back)
Estimated total combined audience of all 64 events, plus the gala and soiree: 4,350
Largest non-school audience: 96 at Books and Company in Prince George
Combined number of books sold at 15 public events: 178 (not including Soiree and Gala)
Treacherous white-out conditions encountered while traversing the Kootenay Pass: 1
Magnetic van signs lost or stolen: 5
Short stories, poems and blog entries inspired by this experience: an ever-growing figure, we're sure.
Lessons: Creating a site for users with various security access and technical abilities requires creative thinking.
See the BC Book Prizes website.
Completed on March 2008

Online Book Promotion for Trading in Memories

Introduce Barbara Hodgson's book Trading in Memories to the online marketplace
www.tradinginmemories.com
Summary
Barbara Hodgson is a well-respected book designer, artist and author. Her fan base actively seeks out her titles, but she had a relatively limited online presence. Boxcar Marketing worked with her book publisher, Greystone Books (Douglas & McIntyre Publishing Group), to produce a web site that would promote Barbara Hodgson and her recent travel memoir, Trading in Memories.
Client Quote
Emiko Morita from D&M Publishers said ...
"Monique Trottier's deep knowledge of the web, combined with her book-industry experience—and, of course, her charm, wit and professionalism—has been a tremendous asset to D&M's online activities. From demystifying search engine optimization to executing book-specific marketing campaigns, she and her team have been a creative and effective resource."
Patricia Storms, cartoonist, illustrator, bibliomaniac, blogger BookLust, when asked to comment on Barbara Hodgson for the Trading in Memories website, said ...
"I believe that all writers are magicians. Perhaps one of the most enchanting magicians I know of is Barbara Hodgson. She travels the world in search of exotic art and experiences, which once delicately collected, become inspiration for her wondrous books. Combining exquisite words with sumptuous images, Ms. Hodgson bewitches her readers with tales of love, mystery and travels to dark and distant lands. She has cast a spell on me that shall never be broken."
Challenge
Book publisher Greystone Books (Douglas & McIntyre Publishing Group) needed a microsite that would promote author Barbara Hodgson and a media strategy that did not involve active participation from the author. This website needed to be a place where fans and online media could be directed to find out more about Barbara's activities, the release of her recent book Trading in Memories and her available backlist titles.
Approach
Douglas & McIntyre was in the process of updating their main publisher site, which meant that in order to promote the book in a timely manner, we needed to create a stand-alone promotional site for Barbara Hodgson and Trading in Memories.
The goals were as follows:
Introduce Barbara Hodgson's book Trading in Memories to the online marketplace.
Ensure fans of Barbara Hodgon's previous works are aware that the new book is available.
Provide online media and bloggers with enough information to review the book or request a review copy.
Provide general readers with enough information to make a buying decision.
To meet these goals we developed a 2-week, online buzz marketing campaign, which included:
A website promoting Barbara Hodgson, Trading in Memories, and Barbara Hodgson's previous books.
Electronic press releases.
Outreach to online media and literary and travel bloggers.
Review copy mailings to interested fans, bloggers and media.
Our Team: Paschal Ssemaganda (Drupal Design and Development).
Results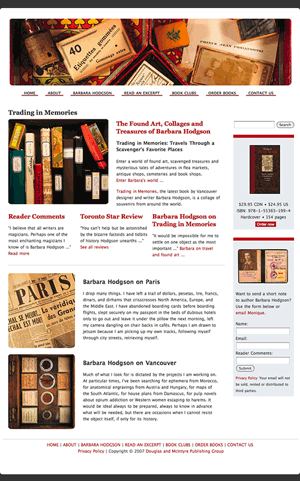 Boxcar Marketing developed an online marketing strategy and online PR including press releases and blogger outreach. Part of the strategy included developing a micosite in Drupal that involved information architecture, wireframes, design, and content creation. Our role also included media tracking.
Boxcar Marketing's publicity efforts resulted in an 80% increase in online mentions of Barbara Hodgson, and during the 2-week promotional period generated more than 30 review copy requests, 60 sample chapter downloads and high profile reviews in sites such as Gadling, a travel blog that is part of AOL's network and is among the top 2K blogs according to Technorati and Bookslut, a popular blog for book lovers.
Lessons: The greater the integration between all marketing activities, the stronger the promotional value of the online activities.
See the Trading in Memories website.
Completed on December 2007

Canadian Geothermal Energy Association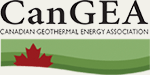 CanGEA Web site redesign and search optimization
www.cangea.ca
Summary
CanGEA—the Canadian Geothermal Energy Association—is a non-profit association encouraging research, exploration and development of high temperature geothermal energy resources in Canada.
Client Quote
Craig Dunn, policy director, CanGEA says:
"We recently re-organized the Canadian Geothermal Energy Association (CanGEA) and we needed a way to present ourselves online in a professional way that would generate memberships for the association and increase public awareness of our work in renewable energy in Canada.

"In one week since we launched our new website, we had 3 highly qualified leads come in from the site: an international bank that could greatly assist in financing our organization, a corporate lawyer who works in the field of environmental law and has a number of renewable energy clients and a PhD professor from an well-respected Ontario University offering his department's assistance with promotion and educations about geothermal energy in Canada.
"These connections alone have made the website worthwhile, and the professionalism and attention to detail from Boxcar Marketing ensures that the website will continue to be our main source of marketing for our organization in the future."
Challenge
CanGEA had an outdated website that did not appear in search engines and was not being maintained. CanGEA recognized that their traditional print materials were not taking advantage of the communications opportunities presented by the internet. They needed to improve their online presence to attract new members and to retain existing members. In addition, they needed to raise awareness of their activities at a local, national and international level. CanGEA wanted their website to profile their members' projects and to be a communications tool for interested parties in the geothermal energy industry, academia, the general public and the media.
Approach
Boxcar Marketing created a website design that would convey geothermal as a sustainable energy resource and would reflect the values and philosophy of the association. We focused on "clean energy" visuals, well-written copy that eliminated industry jargon, and well-optimized pages to appeal to search engines and humans. The standards-compatible code and content meant that the site was optimized for search traffic, but the additional steps taken to optimize site architecture and copy meant that the association was able to attract media attention—in particular from the Toronto Star and CBC—as well as membership and partnership opportunities.
Design/Development: Custom Website Design, XHTML/CSS Coding, Content Management System, Website Maintenance, Ongoing Consulting.
Results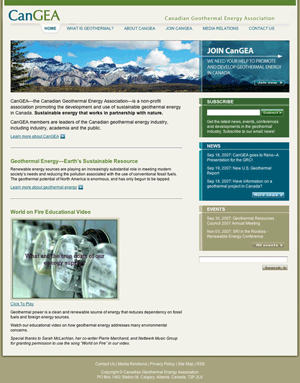 The result is an online presence for CanGEA. Boxcar Marketing established an easy-to-use website that requires minimal upkeep. We avoided clichéd imagery of oil and gas sites and used colour to establish a sense of clean, green energy. We also focused on a single, measurable conversion: Join CanGEA, and ensured its prominent placement.
In March 2008, the redesigned site held top rankings in organic search results for priority keyword phrases:
* geothermal
* geothermal canada
* geothermal energy
* geothermal energy canada
* canadian geothermal
The association has seen a month-over-month increase of traffic between 40 and 65%.
Since the launch in September 2007, the website generates more than 4,000 unique visitors per month (admirable given the size of this niche audience), and the site has generated more than 100 business leads and driven key media inquiries, including those from Canada's largest daily newspaper, Toronto Star, and from CBC Radio and TV.
See the Canadian Geothermal Energy Association website.
Completed on September 2007

Rocky Mountain Motorcycle Holidays Website
Website redesign for Rocky Mountain Motorcycle Holidays
Summary
Rocky Mountain Motorcycle Holidays needed a website redesign to improve their search engine results and to attract a more appropriate level of traffic volume.
Client Quote
Tyler Douglas, marketing director Rocky Mountain Motorcycle Holidays says…
"Our old website was a joke compared to what Boxcar Marketing was able to design for us. We've gone from apologizing to potential clients about the look and functionality of our previous website to singing the praises of the job Boxcar Marketing has done. Now we're truly proud to direct guests and customers to the new site, as it has become our #1 sales and marketing tool.

"Also, the ability of Boxcar Marketing to facilitate a smooth transition of ownership and management of the new website from their hands to ours has proved essential."
Challenge
Rocky Mountain Motorcycle Holidays had an outdated website that did not score well in search engines and did not attract appropriate traffic volume. In additional, a start-up with a similar company name, Rocky Mountain Motorcycle Tours, was competing against them in paid and organic search listings.
Approach
Boxcar Marketing redesigned the website and created well-written, well-optimized pages to appeal to search engines and humans. The standards-compatible code and content meant the site was optimized for search traffic, but the additional steps taken to optimize site architecture and copy meant the company was able to attract visitors through search then convert those browsers to customer leads.
Results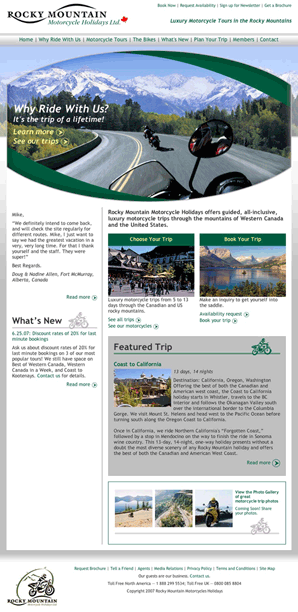 The redesigned site now holds top rankings, above its competition, in organic search results for priority keyword phrases:
* motorcycle holidays
* motorcycle holidays canada
* motorcycle tours canada
* motorcycle trips canada
* rocky mountain motorcycle
* whistler motorcycle trip
* whistler motorcycle tours
The company has seen a month-over-month increase of traffic by 20%.
In the 2 months after the site re-launch, the company's next year's sales were set to surpass the current year's total sales.
Note Aug 2012: Earlier this year Rocky Mountain Motorcycle Tours decided to close it's doors. We were sorry to see them go, but feel the case study is a good example of the process we follow for website redesigns so we've removed the website links but will keep the post up.
Completed on August 2007

Online Book Promotion for Grrrrrowlicious: Food for Hungry Dogs

Online promotion of Jamie Young's book Grrrrrowlicious: Food for Hungry Dogs.
www.grrrr.com.au/dogfood/
Summary
Author and dog-food chef Jamie Young wanted to increase the online awareness of his book, Grrrrrowlicious: Food for Hungry Dogs, during the 2007 pet food recall. Boxcar Marketing worked with his book publisher, Whitecap Books, to create press releases, articles, landing pages and outreach campaigns to media and pet owners.
Client Quote
Jackie Wong, Publicist for Whitecap Books said ...
"Monique is extremely conscientious, hardworking and creative. Plus she brings infectious enthusiasm to her work. We've been very lucky to have Monique on board for the promotion of a recent book. Monique has truly driven the helm of its online promotion, and has garnered consistently outstanding results. She is extremely responsible and remains transparent and accountable to both clients and coworkers. I recommend her very highly."
Challenge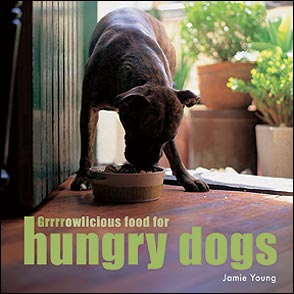 Boxcar Marketing was hired to develop a 2-week, online buzz marketing campaign that would have short-term and long-term effects on traffic to Jamie Young's website, awareness of the book and search engine optimization. This campaign included landing pages that matched the author's existing website design that were used in conjunction with article marketing, press releases, global press attention and online sales.
www.grrrr.com.au/dogfood/
Approach
The campaign goals were to:
1. Introduce Jamie Young's Grrrrowlicious: Food for Hungry Dogs to the online marketplace.
2. Ensure the target audience was aware that the book exists.
3. Provide online media with enough information to review the book or request a review copy.
4. Provide general readers with enough information to make a buying decision.
To meet these goals Boxcar Marketing developed a 2-week, online buzz marketing campaign that included:
* Campaign-specific landing pages that promoted the book and also gave visitors a chance to buy the book online.
* An electronic media release to target online media and story editors.
* Online media and blogger outreach that included a story idea and an offer for a review copy to targeted online media.
* Forum and blog outreach
* A gift-away file of an excerpt from the book, including 3 great dog food recipes
Results
* Global media attention
* 25 review requests
* engagement with concerned pet owners
* 11,000 incoming links to the landing page
Completed on March 2007