Blog & Free Advice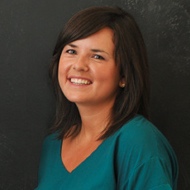 Boxcar Marketing's project manager extraordinaire is off on a new adventure as the Web Content Specialist for the Centre for Digital Media. She'll be writing and managing their website, blog and social media networks to promote the Master of Digital Media program and the Centre itself. Crissy has been a valuable part of the Boxcar Marketing team for 3 1/2 years so she will be sorely missed but we certainly wish her well in...
---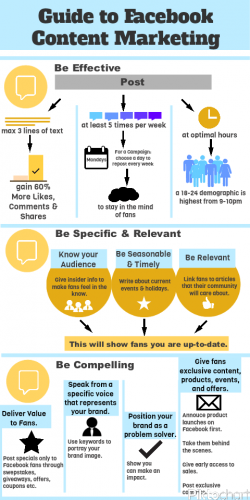 Understanding effective Facebook content management for Pages is neatly illustrated in the below infographic. Many of the tips are covered in my 1-Minute Marketing Tips for Facebook playlist on YouTube but this handy graphic from Wishpond sums up some of the key points, which include: Post effective content to Facebook Pages: Max 3 lines of text (100-250 characters), posted 5x per week at optimal hours for your fans, likely during morning and evening commute...
---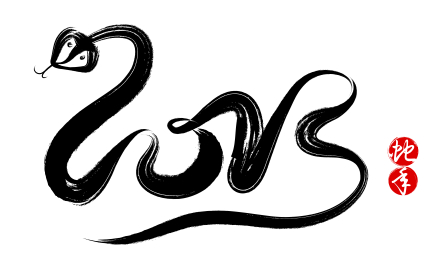 Whoa, where did January go? Good thing we can celebrate the Chinese New Year. February 10, 2013 marks the beginning of the year of the Snake which means steady progress and attention to detail. A Snake year requires focus and discipline to achieve success in business. In addition, this year is a Water Snake year, which is a good omen becasue Water Snakes are lucky with finances. What should you focus on? Website Checklist Test Links and...
---

Marketers often mistakenly believe they are representative of their target audience. But marketers are NOT like the average consumer. As marketers they have a completely different understanding of how news is created, how products get into stores, how services are pitched. All that "behind-the-curtain" knowledge means that marketers' behaviors and preferences are different from the average consumer. ExactTarget's latest free report Marketers From Mars explores the differences between marketers' and consumers'...
---
Webinar Online Persuasion: Insights from Neuroscience + Evidence from A/B Testing from SiteTuners Conversion Rate Optimization Webinar Online Persuasion: Insights from Neuroscience + Evidence from A/B Testing from SiteTuners Conversion Rate Optimization In November 2012, Tim Ash of Sitetuners and Dan Siroker of Optimizely ran a webinar that I really enjoyed that looked at insights from neuroscience that can be applied to A/B Testing for web design. I've used the Express Review from Sitetuners...
---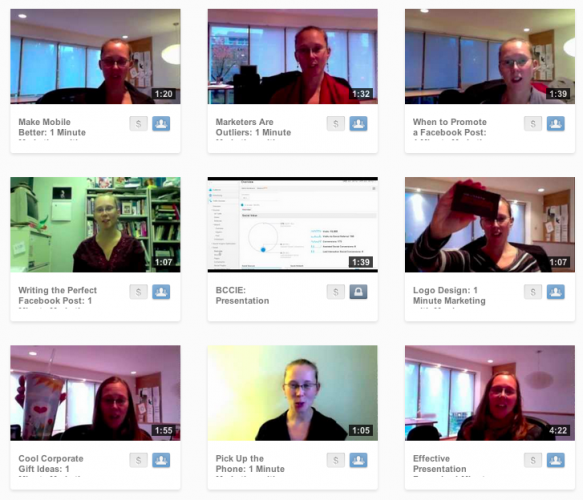 In January 2011, I decided that I was going to publish a 1-Minute Marketing tip per workday. My experiment was see if the video tips would have an impact on the organic search performance for Boxcar Marketing. My thought here was that Google owns YouTube (the second largest search engine) and is heavily pushing Google+. So, I was curious about: 1) how video results were appearing in search engine results and if those video results would also...
---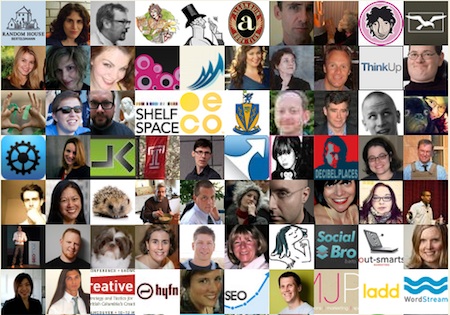 2012 was a busy year. Google made changes to its search results, marketers got on Google+, Facebook launched Timeline for Pages and Google Places was replaced by Google+ Local. As you wrap up the year, here are 6 of Boxcar Marketing's most popular articles related to 2012 marketing trends and top requests from clients. 1. How to Change Your Twitter Name Without Losing Followers Common reasons for needing to change a Twitter name include a rebranding, an...
---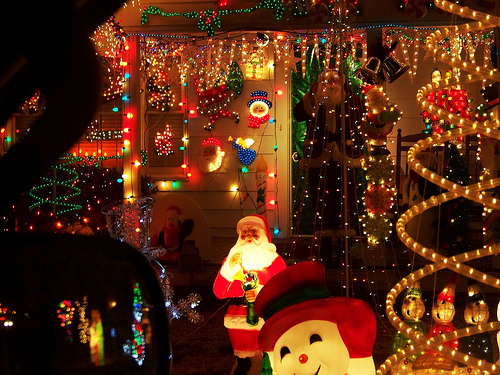 Photo by Deb Mae Season's Greetings! While you're busy decking the halls and sprucing up the office for the new year, it's also a great time of year to find new talent to add to your team. Here are 4 things to remember when hiring new employees. 1. Don't use a junior person to run an interview. This is the first contact a potential employee has with your company....
---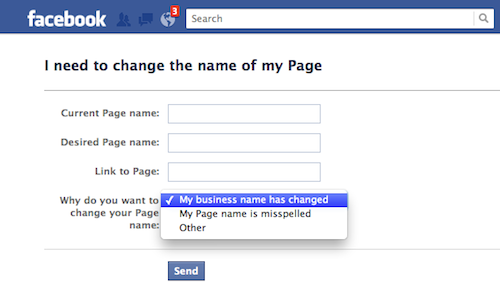 Back in March, we outlined how to change your Facebook page name by filling in this page name request form: Unfortunately, the form is no longer available and now you can only change your page name if you have less than 200 likes. This is to prevent people from building up a page's fan base and then selling the page (and it's fans) to another business. Here's a breakdown of...
---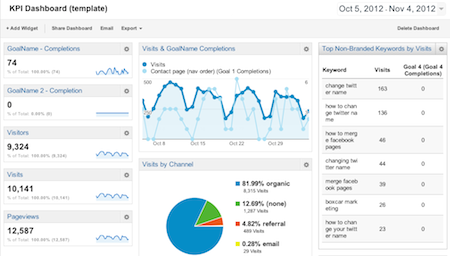 Publishers of all sizes are working to the best of their abilities with limited resources. So, when it comes to Google Analytics, why waste time looking at data and reports that don't provide actionable next steps? Instead focus on a few metrics that make sense for your business and identify marketing opportunties, shortcomings or visitor insights. Acquisition of Traffic to the Site Instead of looking at the total number of visits to your...
---