Blog & Free Advice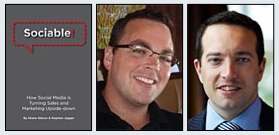 This morning Crissy and I attended the Board of Trade Breakfast and the Manager's Toolbox presentation by Shane Gibson and Stephen Jagger, authors of Sociable: How Social Media Is Turning Sales and Marketing Upside-Down. Check out the First Chapter (PDF). In their introduction Gibson and Jagger stressed that they are not social media experts, social media enthusiasts maybe. Why the strong opposition? Because they recognize that there are no more marketing gurus, only...
---
Julien Smith, co-author of Trust Agents with Chris Brogan, spoke at Third Tuesday Vancouver this week about the nature of social capital and building tribes. While I was expecting a bland presentation on the importance of building community within social networks, I was pleasantly surprised. The talk was less on why online communities are important and more about how now is the time to take control, get over our own fears and become leaders of...
---
We spend a lot of our time helping clients get social media marketing efforts and budgets approved by the decision makers—be it board members, CEOs or upper management. Social media is still new territory and many are hesitant to jump on the social media bandwagon. What we tell our clients is this: Social media is not a fad. It's a fundamental shift in the way we communicate. If you're...
---
The beginning of the year is a great time to reflect on the tools we use and to experiment with new ones that will help make our jobs easier for the next 12 months. These are the online marketing tools that we recommend for 2010. Listening Tools At the heart of any online marketing campaign is listening to what your competitors are doing and what others are saying about you. If you don't know what...
---
If you're like us, you subscribe to blogs with the full intention of reading every post but, as your email or RSS reader fills up, you never get around to reading all (if any) of them. If you're looking to narrow down your reading list for 2010, these are the blogs we always make time to read - and recommend that you should, too. Seth's Blog Marketing and business guru...
---
On December 30, my article "Use Clay to Shape the Future of Publishing" was posted on the BookNet Canada blog. The original is missing the proper links and some blockquotes so I'm going to post it again here. Use Clay to Shape the Future of Publishing As I reflect on 2009, there is one author who continually comes to mind as a thought leader for the publishing industry, and that is Clay Shirky....
---