Blog & Free Advice
I am a digital tour guide in a land of digital tourists. Digital native and digital immigrant are two labels we continue to assign to people based on generation. Their meanings rely on a division according to age in which one is a person who has grown up with digital technology and the other is the adopter of digital technology. By simply dividing along generational lines, we ignore what it means to be truly immersed...
---
Miss604 posted a perfect summary of some really cool twitter tools. Here are my favourites from her list: Generate a tweet cloud http://tweetclouds.com/ Create polls http://strawpollnow.com/ See what's happening right now based on a search term http://search.twitter.com/ Compare trends and topics http://twist.flaptor.com/?tz=-8
---
Stop Perfuming the Pig: Why "real" marketing is done before the product is created "No amount of perfume can overcome the stench of a technology product that people don't need," by Steve Johnson. Peter Drucker makes it clear that marketing isn't a product promotion strategy; it's a product definition strategy, that "marketing" is creating a product that sells itself, creating a product that...
---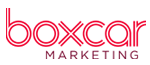 Friend, colleague and awesome graphic designer Jason Landry created the Boxcar Marketing logo and business cards that we've been lovingly passing around for the past couple of months. The font for the word Marketing is Gotham by Hoefler & Frere-Jones. And the font for the word Boxcar is a custom creation based, although there are similar fonts available. The inspiration for the design was railway tracks and the X railway crossing symbol. Although...
---