Blog & Free Advice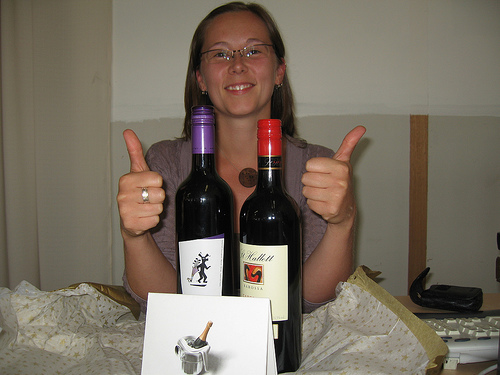 How I Got Wine from Campaign Monitor First let me tell you a story. It's actually Seth Godin's story from The Purple Cow, a book about what it takes to create and sell something remarkable. Seth and family driving in France, enchanted by picturesque cows grazing in lovely pastures. Kilometres and kilometres of cows. New cows suddenly are just like old cow, now cows are common. Now cows are boring. &ldquo...
---
Congratulations to Christopher who won the Pull a Face for PutPlace Contest for 100 GB free data storage and a $200 Amazon gift certificate. Yay! July 3: Monique's first post and her "oh no, I lost data" face.
---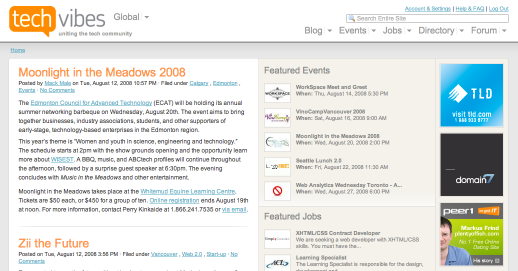 Congratulations to our friends at Techvibes who launched the new design of their website today! The new design is more user friendly and the content is easier to pick out from the featured members and advertising. I like the new look. As mentioned in their email blast,Techvibes was acquired by entrepreneurs Boris Wertz and Geoff Hampson, "with the goal of realigning it as a hyper-local technology news blog and community." What...
---
A small business group that I participate in has pulled together a panel for SXSW. It's about how to create your own small biz mafia to rule the world (or at the least to rule your niche and get support from peers). For our session to be selected we need some votes. If you're so inclined, please go vote for us. You create a free login, it's quick and...
---
Facebook is "a social utility that connects you with the people around you." What does that mean? It's a place for friends to hang out online. Are you a business professional looking to capitalize on friends hanging out online? Sounds dirty doesn't it. As businesses we have to keep in mind the nature of the communities we are joining. Facebook is about personal networks. Facebook became a phenomenon because...
---

July 3 we announced the Pull a Face for PutPlace contest and the 5 finalists have been selected. putplace.com/pullaface to vote. And, if you want to avoid pulling a face because of lost data. Back up baby! PutPlace is one option and you can get 2 GB of free storage in their limited time offer.
---