Blog & Free Advice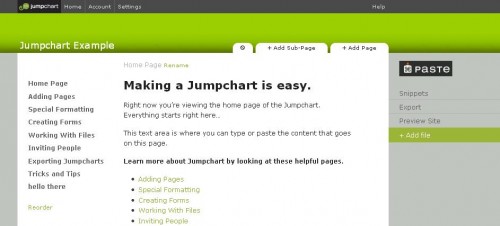 Jumpchart is an online wireframe development tool I have recently started using to plan website information architecture on a current project. The big selling point is the interactivity of the site, where both myself and the client can make changes as the site begins to evolve. If you build websites for a living, you know that content organization and approval can be an overwhelming process. We've all tried flowcharts, and wireframes, html mocks...
---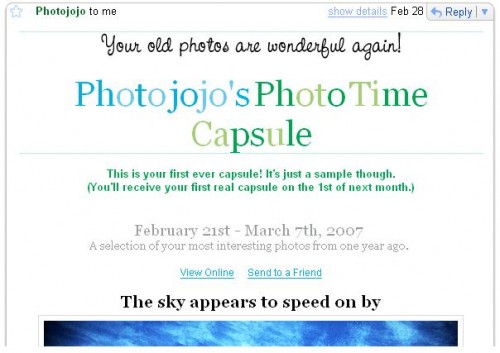 If you are a user of Flickr (the world's best photo sharing site), and have regularly uploaded photos for the multiple years you've been on the site, then you may have a huge archive of thousands of photos at this point. How often to you get the chance to revisit photos from a year ago, or even farther back? Possibly never. Well Photojojo has come up with something called "Time...
---
---
We don't get to Toronto as often as we might like. Just this past weekend we had a long conversation with a friend from Toronto that made us consider a trip. Nothing planned yet, but thinking in the works. (Are the tulips up yet on Queen?) But interesting work keeps happening in Toronto, and we thought we should highlight an upcoming example. From June 22 to 24 our friend Sarah Pullman is leading a session...
---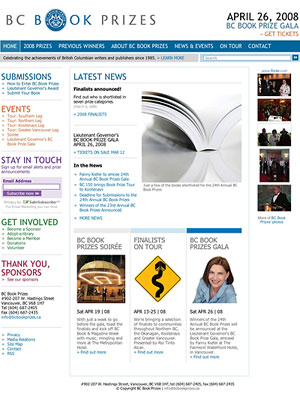 Boxcar Marketing is pleased to announce the launch and re-designed of the BC Book Prizes website. The BC Book Prizes, established in 1985, celebrate the achievements of British Columbia writers and publishers. The seven Prizes, plus The Lieutenant Governor's Award for Literary Excellence, are presented annually at the Lieutenant Governor's BC Book Prize Gala in April. The Prizes are administered and awarded by members of a non-profit society who represent all facets...
---