Blog & Free Advice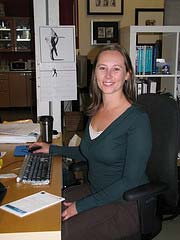 Did you see me on Lab with Leo on Tech TV? I was on Episode 132 talking about email marketing. The segment will be live online eventually and I'll update this post. In the meantime, do you want 10 tips for improving your email marketing this year? Constant Contact, which is one of the email delivery services I mention in the Lab with Leo segment, produces a great email newsletter. Last week Amy Black, Constant...
---

Want to know what Canadian advertisers and marketers are: * thinking about search marketing * doing about search marketing and * planning on doing about search marketing? If yes, take the 2007 SEMPO survey. Who should take the survey? * people familiar with, and actively engaged in, at least one type of the search engine marketing practices. * people engaged in such programs in the capacity as advertisers (including both marketing staff and management), site managers, marketing agencies and search engine...
---

Swamped already? We are only days into 2008! Check out these 5 time saving workflow tips. For Firefox and Safari users: Tip 1: See an interesting phrase on a web page you are visiting, rather than re-typing that phrase into a search bar, simply highlight the phrase and right-click or control-click. You'll get a pop-up menu showing Search Google for [phrase here]. Estimated savings: 5-8 seconds For Microsoft Word users: Tip 2: Instead of going up to the...
---

The good folks at Raincity Studios are acknowledging the lack of women (i.e., zero) mentioned on Techvibes' list of Vancouver tech-industry insiders to watch in 2008. No "old boys club", Raincity created a list of Vancouver women in technology to watch. It's a Vangroovy list of women doing cool stuff. Read the list and add-on if you know of a Vancouver woman in technology who is doing work of note. And if you'...
---