Blog & Free Advice
At Barcamp Vancover on Saturday, Tod Maffin of CBC led a discussion on favourite tech tools, widgets, gadgets and other geekery. All of the tips were great, but I want to point out one in particular. Lynda.com is $25 per month service that provides online training programs. The Lynda movie library is the best tutorial site I have ever seen. Lynda is the show-me tool. No time to take a course but you learn by...
---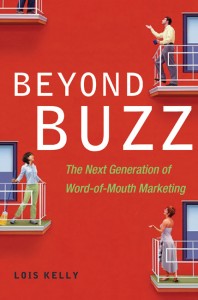 Beyond Buzz: The Next Generation of Word-of-Mouth Marketing by Lois Kelly is about learning to create meaningful dialogue about organizations and products, instead of marketing blah blah blah. If you are the lone evangelist in your organization—the one who gets it—print out a copy of the beyondbuzz-ebook.pdfExecutive Summary of Beyond Buzz and get it in front of as many managers as possible, especially those in communications, marketing and PR. (Tip from a...
---
If someone contacts your company via email or phone, respond. I know this sounds elementary, however, last week I was looking to hire a web design company and I was astounded at the number of companies who never returned my phone call or email. James and I were talking about how this affects our perception of a company, and we shared tales of bad experiences about company sites without contact information and companies who insist...
---

Barcamp Vancouver 2007 is set to kick off tomorrow night, August 17, at 6 pm. The monster that is Barcamp Vancouver 2007 then runs for 24 geek-packed hours, wrapping up Saturday, August 18 at 5:30. If you registered many weeks ago, all the details for the good, good fun are below. If you missed out on registering, I'm pretty sure we'll be running again next year. So stay tuned in July for an announcement. But before we get to the...
---