Blog & Free Advice
Aquent is a made-up word and an online talent agency. They introduce people looking for work to people looking for workers, and take a cut of the action. Or, in their own words: Aquent is a professional services firm that specializes in helping companies all over the world, across a variety of industries, make use of people, processes, and technology more effectively than ever before. Since its founding in 1986, Aquent's pioneering approach to...
---

Tuesday night I presented at the first ever CaseCamp Vancouver. So what is CaseCamp? Think of Bar Camp and shorten it and make it about marketing that uses technology, not just about technology. That's Case Camp. Presentations are 10-minute, rapid-fire case studies that tell a good story, in 10 minutes—tops! The title of my presentation? How I learned that marketing is a practice of faith not reason or The biggest thing I...
---

James Surowiecki has a great article in the New Yorker entitled The Fatal Flaw Myth that pierces the received wisdom of the airline manufacturing industry. I like the article because it acts also as a cautionary tale. Sometimes the patterns we think we see are only short-term happenings. Sometimes the real causes of events and fortunes only become apparent in the longer term. Most importantly, we must resist jumping to conclusions based on hearing a...
---
To manage all the different Work Industries projects I use a web-based project management tool called Basecamp from design firm 37 Signals. 37 Signals are widely known as proponents of simple, clean software. In fact, they say as much on their front page: We believe software is too complex. Too many features, too many buttons, too much to learn. We build web-based products that do less, work smarter, feel better, and are easier to use. We pay...
---
Last week I posted about Graphical User Interface (GUI) prototyping tools and thought that I had discovered a pretty good list of reference points. But then I remembered Gliffy, went back to the site and tried it out again. Suffice to say it is the best example of the movement from desktop applications that run on your local computer to web-based applications delivered through the browser. It's Microsoft's Visio drawing tool...
---
This is one for the nerds out there - let me hear you scream! - here's a very comprehensive list of Graphical User Interface (GUI, pronounced goo-ey) prototyping tools. So what use could they possibly have? Well, consider that you're working on a sign up screen for a website or an e-commerce application. You need to test various versions to see how your users respond. The sign up page is a...
---
Congratulations to Vancity, the folks involved with the ChangeEverything campaign, and Social Signal for a great write up of their project in TechCrunch this morning. ChangeEverything.ca is a Canadian 43Things clone that will launch this month and is provided by the largest credit union in the country. Sixty year old Vancity credit union won't be monetizing ChangeEverything, but using it as a branded promotion for its financial services along with other long...
---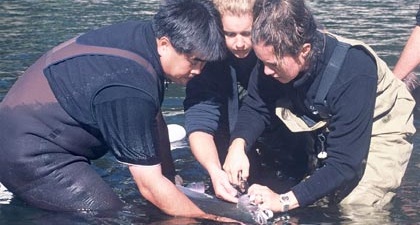 A stellar Work Industries client, the Pacific Salmon Foundation, is looking for a full-time program coordinator to join their team. The job will entail lots of document and proposal review, salmon program administration and coordination and basic desk work at a computer. If you know anyone with a strong background in watershed and salmon advocacy and rehabilitation who is good with detailed tasks (and this could be you), please read on for the full job...
---