Here's an unintentional Easter egg from YouTube. Awkward thumbnail images.
Easter eggs in video games are hidden messages or rewards for players. They are usually little in-jokes, secret rooms or minor segues that help motivate players to continue exploring a game. Overtime Easter eggs have been built into DVDs, websites, apps and most other digital formats. The Easter Egg Archive lists 14,289 Easter eggs that people have found in software, movies, DVDs, books, music and even art, posters and advertisements in the physical world.
Easter eggs are fun and they tell us something about people. People are silly. People like silly things.
How is this related to marketing? Well, people are your market. So how do we appeal to this low-level sense of silliness in marketing?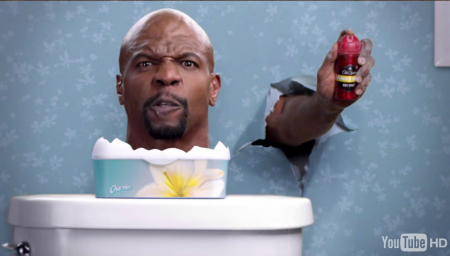 You could take a not-so-subtle approach like the "Smell Is Power" series of Old Spice commercials, where Old Spice's Isaiah Mustafa busts up the Charmin or Tide Bounce commercial. There is definitely something silly about this. The ads play off the predictable nature of how bathroom products are sold. We have a scene in soft lighting with whites, light blues and beiges. A nice looking woman in a button-up collared shirt tells us in soothing tones about the extra softness or fresh-air scent of the product. These ads are so predictable that they lull us into a sense of calm, which is broken 5-10 seconds into the commercial by the masculine power of Old Spice, which is so big and powerful that it can't stay in its own commercial.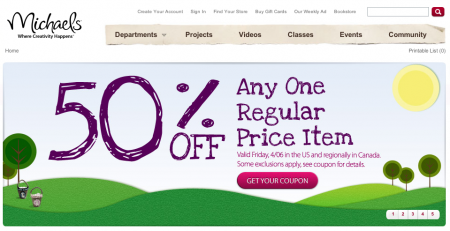 Or you could take a more subtle approach by offering rewards and coupons for dedicated followers of your brand. Michaels, for example, offers weekly coupons for crafters in the know. The "surprise" is the unpredictability of the percentage discount or the select items on sale. Fashion retailers follow the same model by presenting exclusive offers to shoppers who subscribe to their email newsletters or who order online. It's the digital version of the Kmart "Blue Light Special" which was first introduced in 1965 by a store manager looking for ways to stimulate merchandise sales by randomly announcing sales on items in particular aisles.
Alternatively, there is the totally blatant approach, which is the Kinder Surprise. Is the thing being sold the toy inside or the egg? I'd argue it's the experience of guessing what's inside the egg, which is exactly how packages of hockey cards are sold. Will you get the rookie card? Or the Trader Joe's mystery beer packs—$5.99 for 8 random beers.
What's your Easter egg?
Google uses their logo to present daily illustrations that encourage visitors to explore search results for random points of interest or factoids about that particular day. It's a surprise. It's fun. It plays to our sense of curiosity.
Twitter itself is a game. In a sense, it has a score. We keep returning because something might be happening.
Blenz Coffee in Vancouver gave me a "Friends of Blenz" card for a free beverage. I randomly (or perhaps not so randomly) was compelled by their point-of-sale promotion and ordered my London Fog with almond milk instead of regular milk. Et voila, a nice little bonus for doing so.
Odette Morin of You-First Financial enters client names into an annual draw for dinner out when they refer people to You-First for financial planning and investment consulting.
Apple sends stickers with each purchase.
Each of these things are nice little surprises, and as Seth Godin says, investing in delight can go a long way. The next time someone starts talking to you about the gamification of your website, app or marketing efforts, start small by thinking about Easter eggs. What little elements of delight can you add to someone's day? How can you embrace both the predictable and unpredictable aspects of your website, email newsletter or social media marketing? It doesn't have to be hard to be good. The best games set the rules early by establishing "what is this" and "what can I do here", by reassuring the player that they are on the right track with clear navigation cues and by creating reactive elements and rewards. Sounds like website design. Sounds like great marketing campaigns. Sounds like engaging social media.
Have a great marketing Easter egg to share? Post it in the comments.