---
1 Minute Marketing Tips
Set a specific target that is measurable, and achievable and realistic given the context and timeframe. A specific, measurable goal is earning 10 media stories, or gain 100 new social media followers,...
---
What We're Talking About
In the April edition of Underwire, I promised to share some examples of Snapchat that I hope will inspire you. 1. Millennial Recruitment Space150's used Snapchat's custom filters...
---
Project Highlights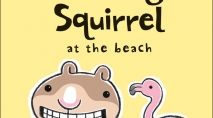 In August 2013, Scaredy Squirrel at the Beach was selected as an iTunes Book of the Week. As the first children's title to be selected, it was difficult to know...