---
1 Minute Marketing Tips
Need a quick, easy way to clean scuff marks off painted office walls? Try some nail polish remover on a cosmetics pad.
---
What We're Talking About
The longest day of the year has come and gone. And you have Fridays off in summer, right? Time is tight. Here are 5 quick and easy ways to improve your...
---
Project Highlights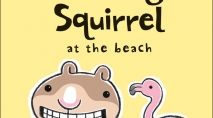 In August 2013, Scaredy Squirrel at the Beach was selected as an iTunes Book of the Week. As the first children's title to be selected, it was difficult to know...