---
1 Minute Marketing Tips
Small changes to book detail pages can have a big impact on sales conversions. Have a look at the copy, testimonials (review quotes) and calls to action. Here are some...
---
What We're Talking About
The #1 complaint about Twitter marketing is "how do you find the time?" Answer: Be SMART. Set marketing goals that are specific, measurable, achievable, relevant and time-based. SMART marketing on Twitter...
---
Project Highlights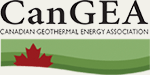 CanGEA—the Canadian Geothermal Energy Association—is a non-profit association encouraging research, exploration and development of high temperature geothermal energy resources in Canada.