Think Independent Contest Promotion

Contest promotion for Think Independent
www.facebook.com/49thShelf
Summary
Think Independent, a national campaign organized by the Literary Press Group to promote independent booksellers, teamed up with Boxcar Marketing's client 49th Shelf to offer Canadians a chance to win some of summer's best new books.
Client Quote
"We're thrilled with the results of our Think Independent contest, hosted by the 49th Shelf. Given their direct-to-consumer reach, it was a no-brainer for us to team up with them for the online portion of our awareness campaign. We're looking forward to working with them again in the future."—Tanya Snyder, LPG Marketing Manager
Challenge
Independent booksellers across Canada were asked to pick their favourite new books being published by Literary Press Group (LPG) members during the 2012 spring/summer season and to highlight them in their stores to celebrate and support independent publishing in Canada.
49thShelf.com, which is dedicated to celebrating and supporting Canadian-authored titles, was a perfect partner for the online component of this campaign. LPG provided 49th Shelf a summer reading library, valued at $250, and in turn 49th Shelf used Facebook and Twitter to promote Think Independent through an online contest that asked fans to identify their favourite Canadian independent bookstore.
The goal of this campaign was to increase awareness of the larger Think Independent campaign and to get Canadians thinking about and supporting local bookstores and the Canadian publishing industry.
Approach
In working with 49th Shelf, Boxcar Marketing coordinates and administers quarterly campaigns and consults on overall marketing and online activities for the site. Over the past year, the team has taken an integrated approach to online marketing, which includes a well thought-out editorial calendar and experienced community managers creating and curating digital content on a daily basis. For the purposes of promoting Think Independent, Boxcar Marketing chose a 2-week Facebook contest that was supported through cross-promotion on Twitter and 49th Shelf's other online properties.
Our promotional strategy was to:
Create a new contest announcement
Tie entry online to offline activities
Amplify the Think Independent message, and
Interact with the community
Results
Contest Landing Page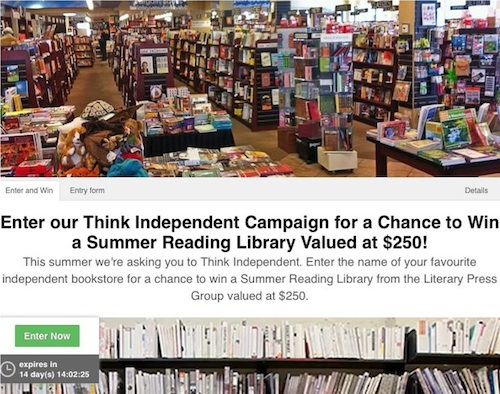 Contest Entry Form

Social is a core component of all Boxcar Marketing initiatives, and as the marketing arm of 49th Shelf, our role in this campaign was to analyze the social media presence, develop and executive the promotional campaign, and provide strategic direction pre-, during and post-campaign. The results were as follows.
1. Increased Engagement with Announcements
49th Shelf fans are highly active on Facebook and Twitter, and book announcements, guest interviews, reading lists and contests frequently receive comments, feedback, tweets and likes. The formula is a simple, clear announcement with great photos and seamless promotion between all social media properties. Recent announcements averaged 13K engagements per post, with contest announcements being higher.
To ensure the contest was fun for fans and had good flow from contest entry form to ballot submission, Boxcar Marketing used the Antavo Promotions Builder to create a dedicated tab on Facebook.

We crafted daily contest posts for Facebook and Twitter during an initial announcement period to ensure greater reach, and then alternated contest messaging with our regular programming for the remainder of the campaign. Rather than simply reminding fans of the contest, the Facebook posts used different photos and messaging to promote the Think Independent campaign in a variety of ways.
2. Drove Offline Engagement
49th Shelf's social channels facilitated consumer participation both online through the contest entry, comments, likes and shares, but also offline through store visits and awareness of the Think Independent displays and campaigns at participating bookstores.
3. Amplified the Think Independent Message
By partnering with 49th Shelf, LPG was able to amplify their Think Independent campaign and connect with an even greater number of people. All of whom are prospective purchasers of LPG-member published titles.
LPG is a not-for-profit association of Canadian literary book publishers. Although it has a social media presence, LPG's main functions are to act as an advocate for its members to various government and funding bodies; provide members with a sales force that represents them to the Canadian trade book market; provide access to advertising opportunities; and create and implement group sales and marketing initiatives.
As a business-to-business entity, LPG's own social media presence is limited in comparison to that of 49th Shelf, which has a business-to-consumer focus. With just under 4,000 Facebook fans, in comparison to LPG's 400, 49th Shelf was better positioned to spread that message to Canadian readers.
4. Interacted with the Community
Canadians are passionate about all things Canadian, in particular Canadian authors and publishers. This simple, 2-week contest had a 28% conversion rate and motivated fans to interact with the page, offered incentives to share the campaign message with friends and fostered an on-going conversation about great summer reads.
The winning entrant Natalie H. had this to say:
"Thank you so much for the wonderful news! I can't wait to dig in to some new reads. Independent publishing and independent bookshops are incredibly important to the Canadian literary landscape and I am delighted that 49th Shelf and LPG collaborated on this contest."

If your organization could benefit from an integrated online/offline campaign, consider creating a contest promotion to turn passive followers into engaged fans. The key is to experiment with campaigns and promotions like this in order to understand what resonates most with your audience and what elements you need to run successful campaigns.
Completed on August 2012