Rocky Mountain Motorcycle Holidays Website
Website redesign for Rocky Mountain Motorcycle Holidays
Summary
Rocky Mountain Motorcycle Holidays needed a website redesign to improve their search engine results and to attract a more appropriate level of traffic volume.
Client Quote
Tyler Douglas, marketing director Rocky Mountain Motorcycle Holidays says…
"Our old website was a joke compared to what Boxcar Marketing was able to design for us. We've gone from apologizing to potential clients about the look and functionality of our previous website to singing the praises of the job Boxcar Marketing has done. Now we're truly proud to direct guests and customers to the new site, as it has become our #1 sales and marketing tool.

"Also, the ability of Boxcar Marketing to facilitate a smooth transition of ownership and management of the new website from their hands to ours has proved essential."
Challenge
Rocky Mountain Motorcycle Holidays had an outdated website that did not score well in search engines and did not attract appropriate traffic volume. In additional, a start-up with a similar company name, Rocky Mountain Motorcycle Tours, was competing against them in paid and organic search listings.
Approach
Boxcar Marketing redesigned the website and created well-written, well-optimized pages to appeal to search engines and humans. The standards-compatible code and content meant the site was optimized for search traffic, but the additional steps taken to optimize site architecture and copy meant the company was able to attract visitors through search then convert those browsers to customer leads.
Results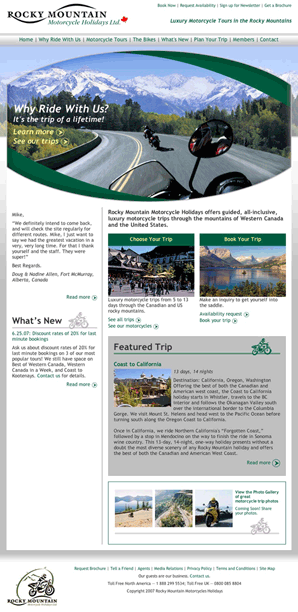 The redesigned site now holds top rankings, above its competition, in organic search results for priority keyword phrases:
* motorcycle holidays
* motorcycle holidays canada
* motorcycle tours canada
* motorcycle trips canada
* rocky mountain motorcycle
* whistler motorcycle trip
* whistler motorcycle tours
The company has seen a month-over-month increase of traffic by 20%.
In the 2 months after the site re-launch, the company's next year's sales were set to surpass the current year's total sales.
Note Aug 2012: Earlier this year Rocky Mountain Motorcycle Tours decided to close it's doors. We were sorry to see them go, but feel the case study is a good example of the process we follow for website redesigns so we've removed the website links but will keep the post up.
Completed on August 2007