Raincoast Books Website Redesign

Development of a content management system and website for Canadian book distributor, Raincoast Books.
www.raincoast.com
Summary
Raincoast Books is an award-winning Canadian book distributor based in Vancouver, BC. As a fast, efficient and forward-thinking company, Raincoast needed a refreshed website design that allowed a non-technical team to manage content in an easy manner. The site needed to highlight client publishers while also providing book buyers, media, booksellers, librarians and the general public with book recommendations.
Client Quote
"Many marketing companies have technical skills, but few have the project management skills displayed by Boxcar Marketing. When Raincoast chose Boxcar to design and relaunch our website, we received the kind of expert outside perspective one hopes for but rarely gets. Boxcar took our goals seriously but then helped us prioritize our needs and made all sorts of timely interventions to help the project move ahead faster, more efficiently and on budget. Boxcar treated everyone in the five departments at Raincoast who was invested in the launch of the website with respect and with an intuitive sense of what issues needed broad discussion and which could be dealt with quickly. Each department now has ownership of the new website but the high design standards and very clean functionality is a testament to the fact it does not look like it was designed by committee. A very neat trick performed by Boxcar Marketing. I am still trying t figure out how they did it."
—Jamie Broadhurst, VP Marketing
"Boxcar has been a joy to work with. The redesign came in on time and on budget and the difference has been immeasurable. The site looks great, but more importantly all the behind-the-scenes wizardry is simple to use and it saves us so much time and anguish - it's made all of our lives easier! They never baffled us with science or talked down us, and on the odd occasions we've had a problem, Monique and her team have been right there to talk us through it in plain English. The whole experience has been so much less painful than we expected!"
—Dan Wagstaff, Online Sales and Marketing Manager
Challenge
Raincoast Books is an award-winning Canadian book distributor based in Vancouver, BC. Raincoast Books specializes in providing comprehensive sales, marketing and distribution services to a select number of international publishers. They distribute books on a wide range of topics including food, health, kids, pop culture, and travel, as well as notebooks, stationery and gift products. The Raincoast Books website uses book recommendations, contests, multiple blogs, email newsletters and special features to attract the attention of potential book reviewers, book buyers, book lovers and gift givers as well as prospective client publishers.
Raincoast wanted to update its websites (Raincoast.com and Blogs.Raincoast.com) to better communicate its fundamental strengths, including:
Competent, experienced sales, marketing and distribution staff
Excellence in technology use and marketing strategies
Capabilities in representing a distinctive blend of contemporary books from global brands and niche publishers across a range of subject areas
Advocacy for the environment, family, the pursuit of happiness, good design, beautiful books and, above all, caffeinated beverages (We've enjoyed many jokes with our friends at Raincoast.)
In short, Raincoast Books needed the new website to clearly showcase its values and proven record of delivering superior distribution services.
Approach
Boxcar Marketing worked with Raincoast Books to establish a strategy for organizing the content and melding the site architecture for the former sites (raincoast.com and blogs.raincoast.com) into a single comprehensive system that allowed for easy updating by non-technical staff. In addition, the new site needed to integrate with a legacy inventory management system used to generate product pages for a separate business-to-business ecommerce site (services.raincoast.com).
Project Goals
Create an attractive, navigable site by redesigning the CSS and templates for Raincoast.com and Blogs.Raincoast.com.
Design the site to be informative and current; flexible and simple to maintain; fresh and modern in appearance; user-friendly and easy to navigate; measurable; and optimized for search engines.
Implement a content management system(s) that can be independently maintained by non-technical Raincoast staff.
Maintain the existing level of integration between the Raincoast site and the B2B site.
Ensure the site architecture and content focuses on the services offered by Raincoast Books and represents the publishing partners and their books effectively.
Better represent Raincoast's services to publishing partners and prospective clients, generate leads and increase awareness and sales of Raincoast's books.
Meet the primary needs of publishing partners and consumers, as well as media, booksellers, librarians and sales reps.
Together with the Raincoast team, Boxcar Marketing reviewed the old site and competitor sites and discussed what worked and what didn't in order to plan the design strategy. We also examined the keywords actively used in searches for Raincoast Books in order to ensure the navigation headings and on-page text elements were optimized for search.
Boxcar Marketing then worked with Joslin Green of Play3r Industries to develop the home page and interior designs of the website. Development was handled by Eric Barstad of Shadow Box Creative Media. The Raincoast website is built in ExpressionEngine, which allows Raincoast staff easy access to all content areas of the site, making it easy to update, even for those with limited html knowledge.
Results
The Raincoast Books website went from HTML files to a fully functional website driven by a content management system.
Before
Static HTML
Heavy, outdated design—dark colours, cramped typography
Page headings were images not text - limited SEO opportunities
Hero images took up too much space on the homepage and looked like advertisements and were ignored
Before Homepage Screenshot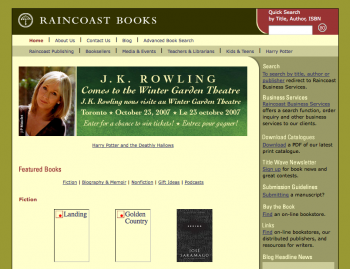 After
Fresh, contemporary design
Blue links that encourage visitors to click
Nice AJAX features that expand book listings to full view
Social media integration—prominent links to social media sites; tweets are pulled in on the right sidebar
User-friendly and easy to navigate
Search optimized pages.
Publishing partners and their books are presented more effectively
Raincoast's services for client publishers are more clearly represented
Homepage Screenshot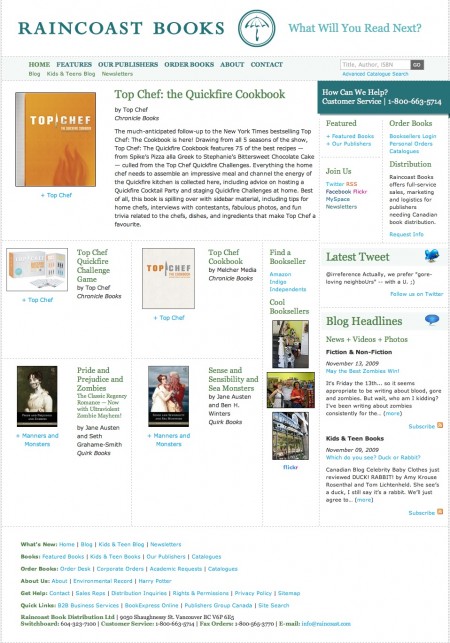 Interior Page Screenshot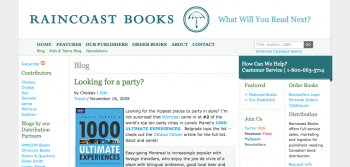 EE WYSIWYG Screenshot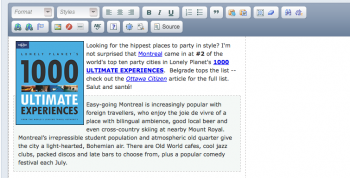 Completed on November 2009
Completed on November 2009