Online Book Promotion for Grrrrrowlicious: Food for Hungry Dogs

Online promotion of Jamie Young's book Grrrrrowlicious: Food for Hungry Dogs.
www.grrrr.com.au/dogfood/
Summary
Author and dog-food chef Jamie Young wanted to increase the online awareness of his book, Grrrrrowlicious: Food for Hungry Dogs, during the 2007 pet food recall. Boxcar Marketing worked with his book publisher, Whitecap Books, to create press releases, articles, landing pages and outreach campaigns to media and pet owners.
Client Quote
Jackie Wong, Publicist for Whitecap Books said ...
"Monique is extremely conscientious, hardworking and creative. Plus she brings infectious enthusiasm to her work. We've been very lucky to have Monique on board for the promotion of a recent book. Monique has truly driven the helm of its online promotion, and has garnered consistently outstanding results. She is extremely responsible and remains transparent and accountable to both clients and coworkers. I recommend her very highly."
Challenge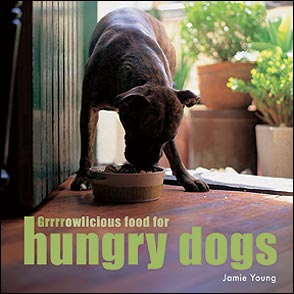 Boxcar Marketing was hired to develop a 2-week, online buzz marketing campaign that would have short-term and long-term effects on traffic to Jamie Young's website, awareness of the book and search engine optimization. This campaign included landing pages that matched the author's existing website design that were used in conjunction with article marketing, press releases, global press attention and online sales.
www.grrrr.com.au/dogfood/
Approach
The campaign goals were to:
1. Introduce Jamie Young's Grrrrowlicious: Food for Hungry Dogs to the online marketplace.
2. Ensure the target audience was aware that the book exists.
3. Provide online media with enough information to review the book or request a review copy.
4. Provide general readers with enough information to make a buying decision.
To meet these goals Boxcar Marketing developed a 2-week, online buzz marketing campaign that included:
* Campaign-specific landing pages that promoted the book and also gave visitors a chance to buy the book online.
* An electronic media release to target online media and story editors.
* Online media and blogger outreach that included a story idea and an offer for a review copy to targeted online media.
* Forum and blog outreach
* A gift-away file of an excerpt from the book, including 3 great dog food recipes
Results
* Global media attention
* 25 review requests
* engagement with concerned pet owners
* 11,000 incoming links to the landing page
Completed on March 2007