Official Community Plan: District of Ucluelet Wiki

Development of an Official Community Plan Wiki for District of Ucluelet
Summary
The District of Ucluelet is located on the West Coast of Vancouver Island near Tofino. In 2008 the District of Ucluelet underwent an extensive review of their Official Community Plan. To encourage greater feedback from the people of Ucluelet and to engage the community at large, the District wanted to add an online component to this process.
Client Quote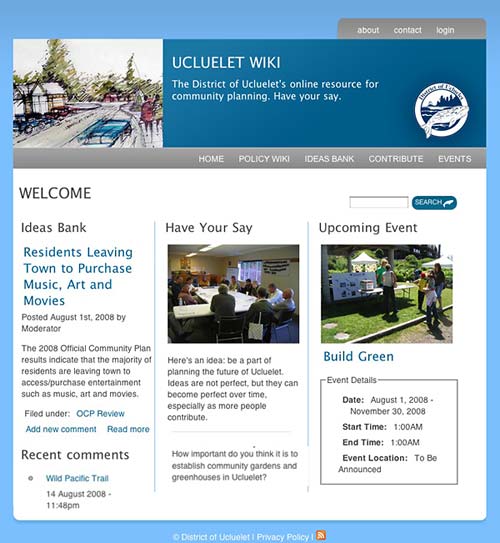 Challenge
The District of Ucluelet wanted to take a fresh approach to gathering feedback and input from the community regarding the Official Community Plan, a 65-page document covering a wide range of subjects related to planning.
In previous years, community members gathered in town hall meetings and at various planning sessions, but this process did not accommodate residents who were occupied or away during the planning stages.
The project challenge was to make the Official Community Planning document available online for people to download at any time of the year, but also to create an online forum for discussing the plan year round. The District was seeking to transform the OCP document into a more organic document for people to comment upon and even edit.
Approach
The goals were as follows:
Create a design consistent with the existing Ucluelet site but with its own look and feel.
Create a site that was more interactive to encourage feedback from the public.
Implement a content management system to run the wiki.
Provide an online forum for the people of Ucluelet to voice their opinions on the Official Community Plan.
To meet these goals we:
Worked out layout options based on content provided by the District.
Created a calendar to showcase community events where people could meet the district planners.
Set up the "Ideas Bank" blog and polls for community engagement.
Implemented Drupal as the content management system for the wiki.
Established a Flickr set for Ucluelet photos.
Results
Since the website's launch in June 2008, members of the Ucluelet community have regularly participated in online polls and are engaged in commenting and discussing planning issues on the website. The model is being adopted by other communities and will continue to be used by the District of Ucluelet.
Note Jan 2012: the original site is no longer in use so the links are removed from this post, but we felt that it was still a useful project to highlight as it was a unique approach for urban planning at the time in 2008.
Completed on June 2008