Canadian Geothermal Energy Association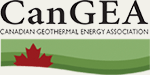 CanGEA Web site redesign and search optimization
www.cangea.ca
Summary
CanGEA—the Canadian Geothermal Energy Association—is a non-profit association encouraging research, exploration and development of high temperature geothermal energy resources in Canada.
Client Quote
Craig Dunn, policy director, CanGEA says:
"We recently re-organized the Canadian Geothermal Energy Association (CanGEA) and we needed a way to present ourselves online in a professional way that would generate memberships for the association and increase public awareness of our work in renewable energy in Canada.

"In one week since we launched our new website, we had 3 highly qualified leads come in from the site: an international bank that could greatly assist in financing our organization, a corporate lawyer who works in the field of environmental law and has a number of renewable energy clients and a PhD professor from an well-respected Ontario University offering his department's assistance with promotion and educations about geothermal energy in Canada.
"These connections alone have made the website worthwhile, and the professionalism and attention to detail from Boxcar Marketing ensures that the website will continue to be our main source of marketing for our organization in the future."
Challenge
CanGEA had an outdated website that did not appear in search engines and was not being maintained. CanGEA recognized that their traditional print materials were not taking advantage of the communications opportunities presented by the internet. They needed to improve their online presence to attract new members and to retain existing members. In addition, they needed to raise awareness of their activities at a local, national and international level. CanGEA wanted their website to profile their members' projects and to be a communications tool for interested parties in the geothermal energy industry, academia, the general public and the media.
Approach
Boxcar Marketing created a website design that would convey geothermal as a sustainable energy resource and would reflect the values and philosophy of the association. We focused on "clean energy" visuals, well-written copy that eliminated industry jargon, and well-optimized pages to appeal to search engines and humans. The standards-compatible code and content meant that the site was optimized for search traffic, but the additional steps taken to optimize site architecture and copy meant that the association was able to attract media attention—in particular from the Toronto Star and CBC—as well as membership and partnership opportunities.
Design/Development: Custom Website Design, XHTML/CSS Coding, Content Management System, Website Maintenance, Ongoing Consulting.
Results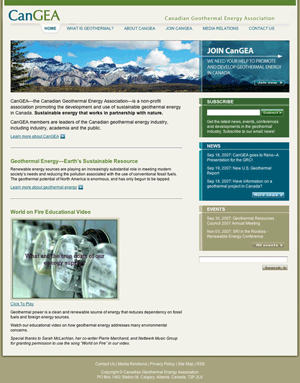 The result is an online presence for CanGEA. Boxcar Marketing established an easy-to-use website that requires minimal upkeep. We avoided clichéd imagery of oil and gas sites and used colour to establish a sense of clean, green energy. We also focused on a single, measurable conversion: Join CanGEA, and ensured its prominent placement.
In March 2008, the redesigned site held top rankings in organic search results for priority keyword phrases:
* geothermal
* geothermal canada
* geothermal energy
* geothermal energy canada
* canadian geothermal
The association has seen a month-over-month increase of traffic between 40 and 65%.
Since the launch in September 2007, the website generates more than 4,000 unique visitors per month (admirable given the size of this niche audience), and the site has generated more than 100 business leads and driven key media inquiries, including those from Canada's largest daily newspaper, Toronto Star, and from CBC Radio and TV.
See the Canadian Geothermal Energy Association website.
Completed on September 2007