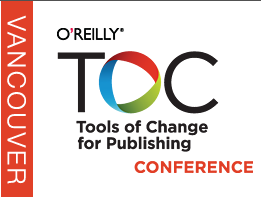 MiniTOC Vancouver is looking for presenters to share their innovative, world-altering bookish/techy/artsy/Vancouvery stories in a quick form presentation at the first annual MiniTOC Vancouver Ignite. Ideally, stories will be groundbreaking, unique, fun, and inspiring for the event's audience of publishing, technology, and other media community members.
When:
Saturday, October 20th at 6pm.
Where:
Centre for Digital Media on 685 Great Northern Way in Vancouver.
How It Works:
Each presenter will get 5 minutes to share the story behind their product or service, using 20 slides that auto-advance every 15 seconds. Presenters should present their story with as much energy and excitement as they can.
If you want to be considered as an Ignite Presenter for MiniTOC Vancouver, send an email to Suzanne Norman at snorman@sfu.ca. The email should include:
One or two paragraphs describing what your Ignite presentation would be about
Short bio
Contact info
Any additional info that might help organizers understand who you are and what your company is about.
What MiniTOC Organizers are looking for:
Speakers who can put their passion for publishing, storytelling, digital technology, and Vancouver front and center and into words and pictures.
Proposals that describe how you will incorporate visual impact, inspiration and creativity into your presentation.
People who don't often attend tech conferences. Does your presentation have the participation of a woman, person of color, or a member of another group often under-represented at tech conferences?
If You Are Selected:
Full admission to miniTOC Vancouver will be provided
Slides must be prepared and submitted no later than October 15, 2012
You must be on site and available for the miniTOC Vancouver Ignite - Saturday, October 20 5pm (Ignite begins at 6pm)
Looking for More Information?
Find out more about MiniTOC Vancouver.
Find out more about Ignite Presentations.
Tips for how to give an Ignite talk.