---
1 Minute Marketing Tips
If you want increased visibility for your content, and a better chance of having that content shared (earned media), then make sure to promote your content across your owned (website),...
---
What We're Talking About
#1 Teaching undergrads has taught me about Snapchat Teaching digital marketing to third- and forth-year business students is rewarding for both the experience of teaching but also of learning. Out of 62...
---
Project Highlights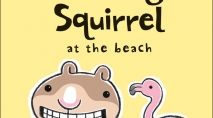 In August 2013, Scaredy Squirrel at the Beach was selected as an iTunes Book of the Week. As the first children's title to be selected, it was difficult to know...