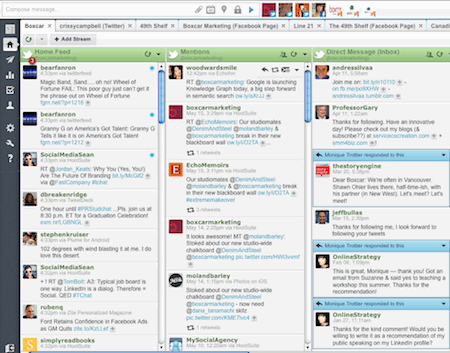 Hootsuite is a great social media management tool. When you're running multiple social media accounts - such as your business' Twitter, Facebook and LinkedIn accounts along with your personal social media profiles - it's useful to use a tool like Hootsuite to manage your social networks and stay on top of all of your profiles.
Hootsuite has a basic Free account, which lets you manage up to 5 social media profiles. They also have a Pro Account ($9.99/month), that lets you manage unlimited social profiles and lets you have up to 2 users running these accounts. This is really useful when, for example, the management of your company Twitter profile is shared by two different people.
Hootsuite is easy to use, affordable and has great features such as post scheduling, search streams and analytics.
1. Scheduling Posts in Hootsuite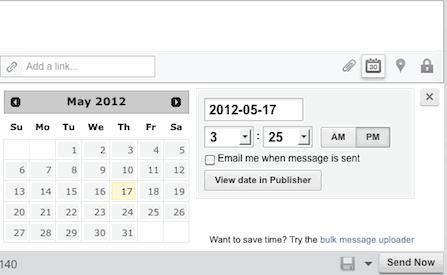 Scheduling posts is probably one of Hootsuite's most used features. While it's always best practice to manually post to social networks, using scheduling is helpful for posting updates outside of office hours, especially if you have fans and followers in different time zones.
To schedule posts, click on the calendar icon and set the date and time you want the post to go out.
2. Hootsuite's URL Shortener
When posting a link you want to use a URL shortener for two reasons:
If you're posting to Twitter, a URL shortener will help cut down your tweet to 140 characters (ideally tweets should be less than 120 characters to leave room for retweets).
To get stats on the number of people who clicked on your link.
Hootsuite's Ow.ly URL shortener is built into the message field so it's easy to shorten your URLs while you're posting.
You also have the option of creating custom URL parameters.
3. Hootsuite's Custom URL Parameters
Available on Pro accounts, creating custom URL parameters is similar to using Google's URL Builder.
Custom URL parameters can let you track analytics on specific URLs for your campaigns. This allows you to track which messages are sending traffic to your site. To create a custom URL, click on the gear icon the URL field and choose Google Analytics under Add Custom URL parameters.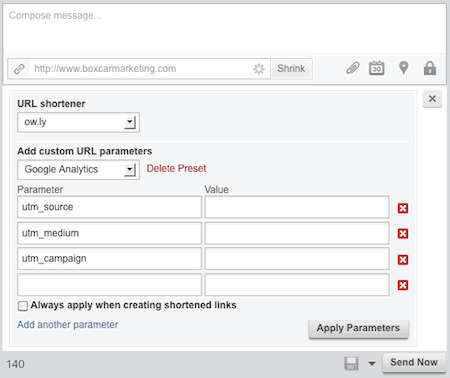 When filling out the fields:
Source is the social network where you're posting the link. (ex. Twitter)
Medium is where you specify what exact account your traffic is coming from. This is helpful if you have multiple company Twitter accounts. (ex: Boxcar Marketing)
Campaign should be the name of campaign (ex: June Outreach Campaign)
Save your presets if you plan on sending out more tweets about this specific campaign.
4. Hootsuite Streams
Streams are searches that let you monitor what's going on, on your social networks. For example, you can set up streams for your scheduled posts, Twitter mentions, direct messages and Facebook news feed. Streams can also be used to monitor mentions of your brand name, your competitors, hashtags and relevant keywords. Note: There's a limit of 10 streams per profile.

To create a stream, click + Add Stream at the top of your home feed stream. In the popup window, choose which type of stream you want to create, enter in your keywords if necessary, and click Create Stream. Once your streams are set up you can drag them in any order you wish.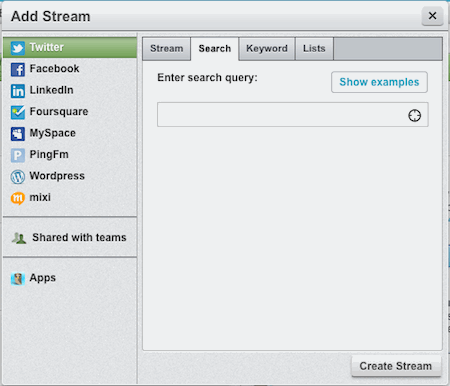 You can also set up your searches to only show results within 25 km of your current location. When setting up your search, just click on the bulls eye icon.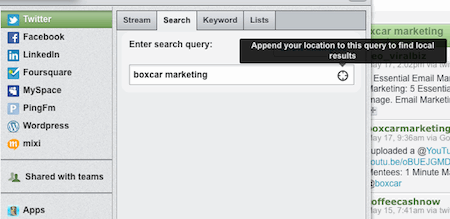 Watch Monique's 1 Minute Marketing Tip on using Hootsuite's Advanced Geo Search.
5. Hootsuite's Analytics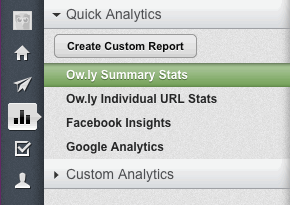 Analytics lets you see the stats for your tweets (if you use the Ow.ly shortener). This will tell you how many people clicked on your tweets, what region they were from and your most popular tweets.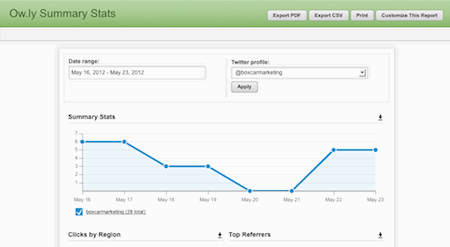 Hootsuite's Analytics also lets you access your Facebook Insights and Google Analytics right in the Hootsuite Interface.
Looking for more Hootsuite help?