It's easy to schedule email reports in the new version of Google Analytics. You can set up email reports to be sent to your own inbox, to colleagues within your organization or anyone else who needs to be kept updated on a regular basis on your website's performance. You can choose to send your Dashboard Report, any of the Standard Reports (Visitors Overview, Traffic Sources Overview, Goals Overview, etc.) or, if you have Custom Reports set up, you can send a Custom Report. (Don't have Custom Reports set up? Read this post on using Custom Reports. And here's a Custom Report Configuration so you don't have to create your own.)
How To Get Google Analytics Reports Sent to Your Inbox
1. Log in to your Google Analytics account. Go to the report you want to email and click on Email under the title of your report. (We've highlighted it in green below.)

2. In the Email Report box, enter the email address you want the report sent to (multiple email addresses need to be separated by a comma) and, if you want, edit the subject line.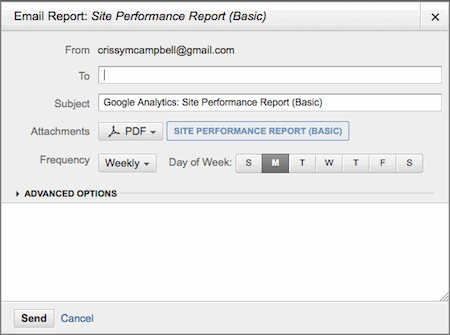 3. Next to Attachments, you can specify the file format you'd like the report to be sent in.

4. Set the Frequency (Once, Daily, Weekly, Monthly or Quarterly) and Day of Week you'd like the report sent.
5. If you click on Advanced Options you can set how long you want the email setting to be active for.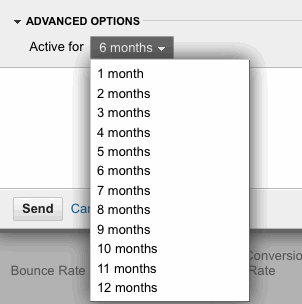 6. Write an email message in the text field. This message will go out with all of the reports.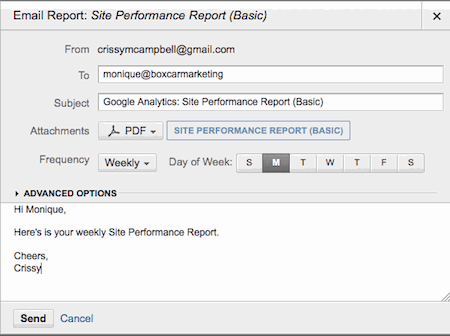 7. Click Send
Looking for more help with Google Analytics? Check out our blog category on Google Analytics tips.