Managing your Facebook business page can be time consuming. Here are our tips for how to manage your Facebook page efficiently while ensuring that it is still effective and engages your fans.
Notifications
When Facebook made changes to their pages this past spring, they added a notifications feature that allows page admins to receive email notifications when people post or comment on your page.
I love this feature because it's an efficient way to stay on top of any fan interactions on your page. Before Facebook introduced this feature, I was logging into to Facebook every few hours and scrolling through our clients' Facebook wall in order to stay on top of fans questions and comments.
Email notifications is a default setting in Facebook. If you don't want to use this feature, you can turn it off by going to Edit Info (right above your page's photostrip) > Your Settings

Spam Settings
Another feature that helps you monitor your page is the spam settings.
Although we don't generally advocate censoring content on your Facebook page, there are some things that brands don't want posted to their Facebook wall. The spam settings let you moderate and review items before they get posted live to the wall.
To access your spam settings go, Edit Info > Manage Permissions. Under Moderation Blocklist you can add keywords that you want blacklisted. When fans include any of these keywords in a wall post or comment, the content will be marked as spam for you to review.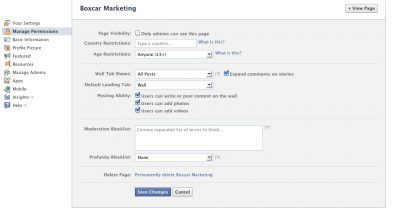 You can access posts marked as spam under Wall > Hidden Posts.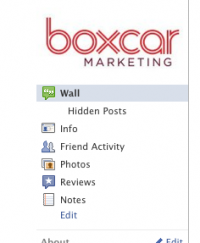 When you're logged in as an admin, comments marked as spam will be greyed out on the wall.
Posting and Engaging
We recommend only posting status updates on your page once or twice a day. Any more than that and you're spamming your fans' walls.
Since you're only posting once or twice a day, make these posts count by determining what times are the best times to post. Are your fans the 'after work' crowd - mostly on Facebook in the evenings? Or are they on Facebook during their lunch hour?
To figure out when you should be posting, look at posts that have gotten the most likes or comments and see what time of day they appeared on the wall. You can also look at your data in Facebook Insights (see below) to see what time is best for posting.
Another way to get your brand in front of other Facebook users is to post on other walls with your page profile vs. personal profile. Facebook now gives you the option to post and comment, as your business' page, on other pages that your page has liked.
An additional way to maximize your posts is to tag pages (or people) when you mention them in a post. By tagging another page, your post shows up on their wall and your name gets in front of their fans, too. Again, this can become spammy so use tagging sparingly and only with posts that relate to that page.
Note that you can only tag pages that you've liked and people that you're friends with. When posting to Facebook as your page profile instead of your personal profile, you can only tag pages that you've liked. You can't tag people as a page, unless they've created a page for themselves instead of a regular profile.
To tag a page, when you're typing your post use "@" and start typing the page name. A list of pages will appear, click on the one you want to tag. The same works for tagging people.

Facebook Insights
Facebook Insights lets you monitor interactions on your page. Similar to Google Analytics, you can set a time period and then review the activity on your page, such as new likes, the demographics of your fans and the number of comments and likes for that time period.
Under Page Insights > Interactions, you can access a list of posts, what day and time they were posted at, the % of impressions (% of your fans who saw the post) and the % of feedback you got on the post.
This is a great way to see what types of content you should be posting and when, which helps make your posts more effective and engaging.
Coming soon: Essential Apps for Facebook Business Pages
UPDATE
To clarify, if your Facebook page has made another page one of its "Favorites" you can post on that page's wall or comment on a post as your Facebook page. Facebook doesn't let you comment on an overall page.
To "Like" content you can just click on the Like button at the bottom of a post or comment. If you are using Facebook as your page, this Like will be associated with your page instead of your personal profile.

To use Facebook as a Page, under Account choose "Use Facebook As a Page"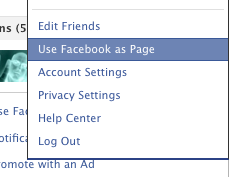 There are two ways you can "Like" or Favorite pages as a page (Facebook uses like and favorite interchangeably).
If you're signed in to Facebook using your personal account and come across a page that you want to favorite, scroll down and on the left sidebar near the bottom click on "Add to My Page's Favorites". If you're an admin of more than one page, you'll need to choose which page you want this page to be a favorite for.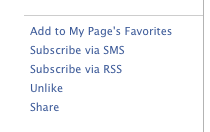 Another way to "Like" pages is to use Facebook as a page. Once you're using Facebook as a page and you come across a page you want to like, just click the Like button at the top of the page as you would if you wanted to Like a page through your personal account.