Whether you're new to an industry or simply new to online marketing, it's often difficult to find your target audience online.
Understanding who your audience is and what they talk about is a key component in developing an effective online marketing strategy.
Here are some tips for finding your audience on Twitter.
3 Ways to Find Your Target Audience on Twitter
1. Advanced Twitter Search
Twitter's Advanced Search is great for finding people on Twitter via the keywords or hashtags in their tweets, the people mentioned in their tweets or by their location.
You can search for terms related to your business, product or services. And if you have a location-specific product or campaign, you can narrow your search by location.
For example, if I was a book publisher looking for people to attend my Vancouver-based book launch, I could search for people talking about books or novels in Vancouver.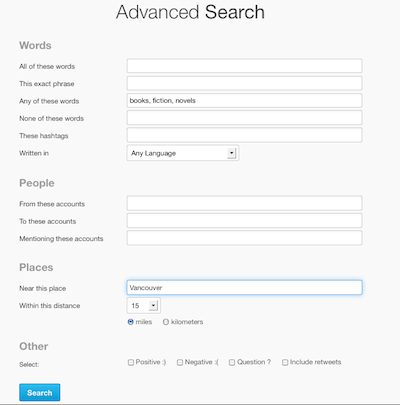 2. Hootsuite Streams
Similar to an Advanced Twitter Search, Hootsuite Streams let you monitor tweets related to your products or services by setting up keyword searches.
(Note: If you don't use Hootsuite, here's how to use it to manage your social networks.)
Click the Add Stream button above your Home Feed, and enter the search query or keywords that you would like to track.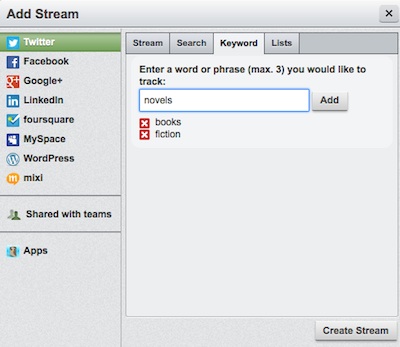 You should also set up a stream for your company name so that you can monitor Twitter mentions that don't use your Twitter handle.
3. Advanced Google Search
In addition to searching by tweet content, you can use Google search to find people by the keywords and location in their Twitter bio. To do so, paste this search phrase into Google's search bar:
intext:bio* [keyword] location* [city] site:twitter.com
For example, if I'm a publisher looking for people located in Vancouver who are interested in books, I would search using this phrase:
intext:bio* books* vancouver site:twitter.com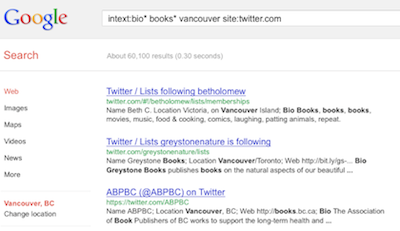 Alternatively, you can search for people on Twitter by their username or real name, using this formula:
intitle:"[keyword]* on twitter" site:twitter.com
What to Do Once You've Found Your Audience
Once you've found people on Twitter who fit your target audience:

Follow them and listen to what they're talking about. What excites them? What are their pain points? Twitter can be an excellent research tool. If they've tweeted about a problem you can solve, reply to them and let them know you can help.
Send out a #FF tweet, noting them as new people you're following.
Look through who they follow and see if any of their followers are worth following. Followers often have similar interests.
And to help your audience find you on Twitter, watch this video:
Better Twitter Bios Have These 3 Things
Looking for more online marketing help?
See our daily 1 Minute Marketing Tips on the Boxcar Marketing YouTube channel.