Now that we've covered how to manage your Facebook business page, the must-have apps to use, and frequently asked questions about Facebook business pages, here's a 10-step checklist to help you get started with your Facebook marketing:
Getting Started
1. Develop Your Strategy
Before you start marketing on Facebook, ask these questions:
What's the purpose of being on Facebook?
Who is your audience?
What do you want them to do?
How will you know if you're successful?
For more help developing your Facebook strategy and marketing campaigns, take a look at 64 Awesome Facebook Marketing Techniques.
2. Set Up Your Facebook Page
This includes:
Choosing a category for your page and adding sub categories.
Filling out all of the fields in the Info tab.
Uploading photos to populate your photo strip.
Choosing which apps to add and setting up tabs for them. For suggestions, read 7 Must-Have Apps For Your Facebook Business Page.
Read about the difference between a Facebook business account and a personal account and how to convert a Facebook profile page to a business page.
3) Favourite Other Business Pages
"Liking" other business pages helps to create awareness and introduce your Facebook page to these businesses. To develop goodwill, determine what 5 business pages you want to feature on your wall under Likes. To do this, go to Edit Info > Featured.
Read about how to "Like" another business page.
4) Develop a Content Strategy
Based on your strategy and what you want your audience to do on your Facebook page, determine what type of content to post on your page. Ask yourself how you will reach out to your fans and what value your page will provide. It may be useful to create an editorial calendar to map out the types of content you'll post and discuss throughout the year.
Daily Management
5) Monitor Your Page
Has anyone commented or posted to your wall? Like or comment back.
6) Go Through Your News Feed
Is there anything to comment on, like or share with the fans of your page?
7) Update Your Page
Many experts say to update your page 3+ times / day. This depends on your content strategy, though, and what your fans expect. Posting too much will be seen as spam by your fans and will clog up their news feeds. Use your judgement and what you learn from Facebook Insights (see below).
8) Monitor Your Page Again
Near the end of the day, check in on your page again. Is there anything that needs responding to or attention?
Read more tips on managing your Facebook page.
Weekly Reporting and Adjusting
9. Review and Report On the Numbers
Based on your strategy, how will you measure success? Some possible success metrics: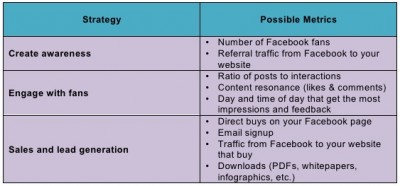 In Facebook Insights under Interactions, you can see posts by the day and time they were posted, and what type of feedback they received. This helps determine what types of content your fans are interested in, as well as what day and time of day to be posting.

10) Refine and Adjust
Based on your metrics, what tactics are working? What's not working? Refine and adjust your strategy and daily management of your page accordingly.