Back in March, we outlined how to change your Facebook page name by filling in this page name request form: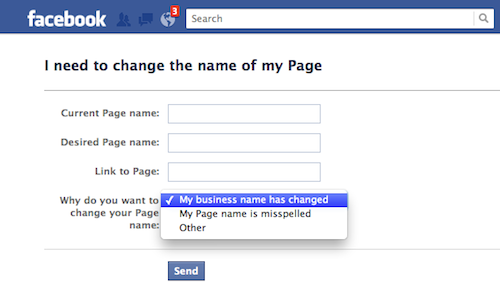 Unfortunately, the form is no longer available and now you can only change your page name if you have less than 200 likes. This is to prevent people from building up a page's fan base and then selling the page (and it's fans) to another business.
Here's a breakdown of how to change your Facebook page name if you have under 200 likes and what options you have for renaming your Facebook page if you have more than 200 likes.
How to Change Your Facebook Page Name
If You Have Fewer Than 200 Likes
If your page has less than 200 likes and you want to change your Facebook page name, you can do so by going to Edit Page > Update Info.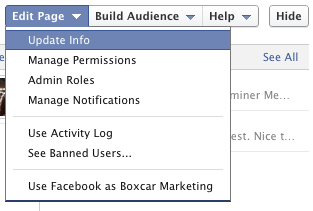 If you have less than 200 likes, this page will look like this and you can change your page name under the Name field:

If You Have More Than 200 Likes
According to Unfortunately, pages outside of the US don't have the option to request a name change. If a name change is impossible to avoid, you will need to create a new page with the new name and manually ask fans to move over. Boxcar Marketing successfully did this for 49th Shelf during their rebranding campaign, by running a Facebook contest as an incentive for fans to move over to the new page.
Can You Change Your Username?
If you've chosen the wrong username or misspelled your username you can change it, but note that you can only make changes once. To change your username, go to Edit Page > Update Info and click on Change Username under the Username field: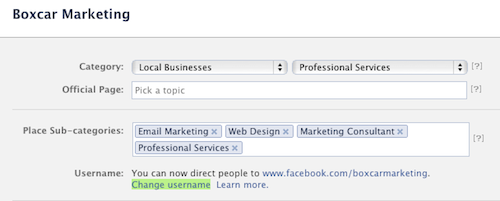 Enter a new username and click Check Availability. If your username is available click Confirm.
More Facebook Marketing Help
1. How to Merge Facebook Pages
2. Can a Facebook Group Be Converted into a Page?
3. How to Write the Perfect Facebook Post