Blog & Free Advice: Monique's Pick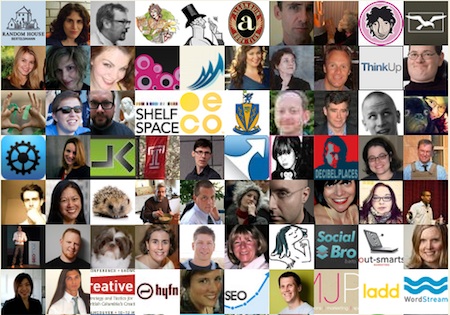 2012 was a busy year. Google made changes to its search results, marketers got on Google+, Facebook launched Timeline for Pages and Google Places was replaced by Google+ Local. As you wrap up the year, here are 6 of Boxcar Marketing's most popular articles related to 2012 marketing trends and top requests from clients. 1. How to Change Your Twitter Name Without Losing Followers Common reasons for needing to change a Twitter name include a rebranding, an...
---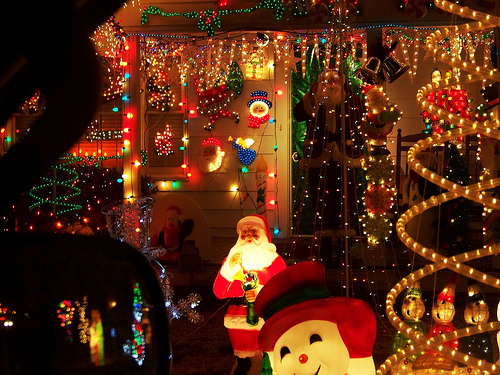 Photo by Deb Mae Season's Greetings! While you're busy decking the halls and sprucing up the office for the new year, it's also a great time of year to find new talent to add to your team. Here are 4 things to remember when hiring new employees. 1. Don't use a junior person to run an interview. This is the first contact a potential employee has with your company....
---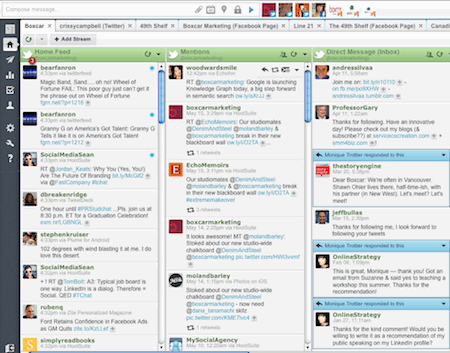 Hootsuite is a great social media management tool. When you're running multiple social media accounts - such as your business' Twitter, Facebook and LinkedIn accounts along with your personal social media profiles - it's useful to use a tool like Hootsuite to manage your social networks and stay on top of all of your profiles. Hootsuite has a basic Free account, which lets you manage up to 5 social media profiles....
---

What happens on the internet every day? We all know that the internet is huge, but you may not have realized how huge. This infographic from MBAOnline.com gives some numbers on what happens on the web on a daily basis. According to this infographic, every 24 hours: 294 billion emails are sent 2 million blog posts are written 172 million different people visit Facebook 864,000 hours of video is uploaded to YouTube 378,000 iPhones are sold See the infographic for...
---
Looking for some marketing articles to read before the end of the new year? Here are the top articles on Boxcar Marketing according to most viewed. 1. How to Manage Your Facebook Business Page Tips on managing a Facebook Page efficiently. 2. Graphical User Interface (GUI) prototyping tools For the nerds out there, we have a link to a list of GUI prototyping tools. 3. How to Run a Facebook Contest Because 2011 was all about Facebook, here&rsquo...
---
Photo by Elana Amsterdam Here at Boxcar Marketing, we like eggnog—and it's even better with rum. Here's an easy recipe from The Kitchn for Homemade Eggnog that you can make with either rum or bourbon. Yum! To busy yourself in between eggnogs, (if you missed it), here are our 12 marketing tips that you can do before Christmas. Also check out Search Engine Journal's 12 Days of Christmas Internet...
---

The Vancouver Opera is a former client of Boxcar Marketing so we like to champion them and follow their marketing initiatives. Worth calling out is their 15-second TV spot and transit campaign for season opener West Side Story, which also got a lot of play online. Not only was the online and office campaign really cool but the 15-second tv spot behind the campaign was created by our colleagues at Giant Ant Media, who make...
---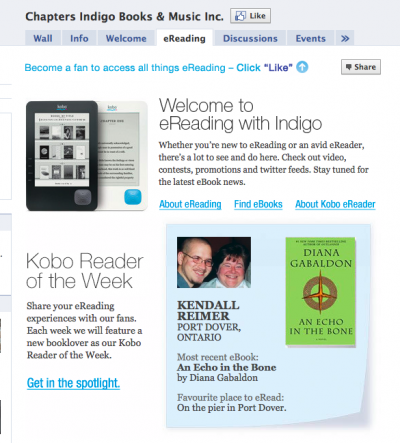 Chapters Indigo has a really neat eReading app on their Facebook Page that we haven't seen done yet anywhere else. If you click on the eReading tab on their Facebook Page, this is what you see: Why We Like The eReading App It encourages avid readers to explore ebooks in a comfortable environment. Fans of the Chapters Indigo Page are, presumably, book lovers and the eReading app provides information about ebooks where they...
---
Registration for BookCamp 2010 opened last week and we're getting excited for a full day of book and technology-related discussions. BookCamp Vancouver is a chance to bring the publishing and technology community together to discuss the future of books and book-like technologies. There are a number of blogs that do an excellent job of exploring these topics and, in preparation for BookCamp, the following are blogs that we recommend putting on your reading list: ...
---
Back in January, Monique was asked to impart her social media wisdom on Monica Hamburg's blog, Me Like the Interweb. Monique's lesson was this: Talking to clients about social media is always an exercise in metaphors for me: Social networking is a digital cocktail party. LinkedIn is a business conference. Twitter is your individual headline news ticker. YouTube is your private tv station. In many ways the metaphors...
---