Blog & Free Advice: Google Analytics
Things are changing! Google recently introduced Universal Analytics. Universal Analytics is a new code snippet that provides access in Analytics to a set of features that was previously only available in the development environment, in particular the ability to set custom dimensions and metrics and multi-platform tracking (track more than just websites). New Code Based on what I've read, the best thing for existing sites already running standard Google Analytics is to implement Universal...
---
Above are the slides for my recent webinar for eBOUND Canada members on Google Analytics for Publishers. In the presentation, I reference a number of resources that are availabe on the Boxcar Marketing blog so I thought it would be helpful to compile them here. 1. Getting Started (or making sure you're on your way, the right way) a. Start with the slides above and this companion blog post on Google Analytics for...
---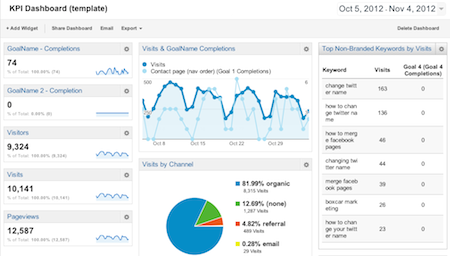 Publishers of all sizes are working to the best of their abilities with limited resources. So, when it comes to Google Analytics, why waste time looking at data and reports that don't provide actionable next steps? Instead focus on a few metrics that make sense for your business and identify marketing opportunties, shortcomings or visitor insights. Acquisition of Traffic to the Site Instead of looking at the total number of visits to your...
---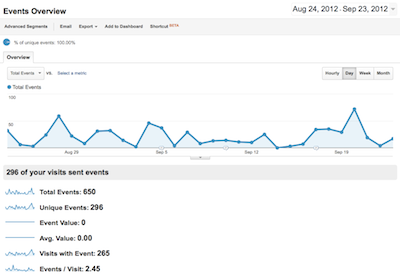 Google Analytics' Event Tracking is a great tool for monitoring activities on your site that aren't related to a specific URL destination. Whereas Google Analytics typically tracks activities on your site related to page loads, Event Tracking tracks actions where no URL destination is recorded, such as clicks on social media links or PDF downloads. How to Install Event Tracking Before you can add Event Tracking to your site, you need to...
---

Google Analytics Setup Checklist for Agencies, Web Designers and Programmers Google Analytics is one of those tools that you want to set up correctly from the beginning so that you can avoid headaches later. 1. Choose Your Preferred Domain (www or non-www) To a search engine www.yoursite.com is different than yoursite.com. For this reason, you want to decide on your preferred domain so that when setting up Google Analytics and other accounts in...
---

It's easy to schedule email reports in the new version of Google Analytics. You can set up email reports to be sent to your own inbox, to colleagues within your organization or anyone else who needs to be kept updated on a regular basis on your website's performance. You can choose to send your Dashboard Report, any of the Standard Reports (Visitors Overview, Traffic Sources Overview, Goals Overview, etc.) or, if...
---

Granting other users access to your Google Analytics is easy to do and offers administrators the ability to share traffic data with key contacts such as colleagues within the organization, outside consultants, and anyone else who needs to make strategic decisions based on website data. Google Analytics also offers tiered access levels to help govern who has read-only access to view reports vs. who has full admin access for setting goals and adding filters. How...
---
Integrating Google Analytics with your email newsletters is important so that you can track what visitors from the newsletters do on your site. While most email marketing services track the clicks on links in newsletters, they don't track important metrics about what visitors do after they click. When running an email newsletter campaign, you can track this data by integrating Google Analytics with your email tool in order to answer questions like, how...
---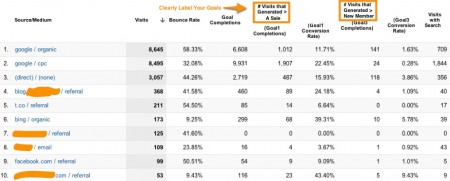 Measuring the value of your marketing efforts is a constant struggle for businesses because there are so many factors that indirectly affect sales. On top of that, online marketing can drive offline sales and offline marketing can drive online sales. All of these factors make it difficult to really know what is influencing a sale. That said, Goals and Custom Reports in Google Analytics can give you insights into the two things that the people...
---

Goals are used in Google Analytics to measure business objectives such as generating revenue (sales, donations, subscriptions, etc.), gaining new subscribers to an email list or members to a website, and tracking any type of measurable action such as contest entries or case study downloads. Common examples of Conversion (or Goal) Tracking include the following: Goal Funnels The steps (or micro conversions) a visitor progresses through in order to achieve the end...
---