Blog & Free Advice
Looking for some marketing articles to read before the end of the new year? Here are the top articles on Boxcar Marketing according to most viewed. 1. How to Manage Your Facebook Business Page Tips on managing a Facebook Page efficiently. 2. Graphical User Interface (GUI) prototyping tools For the nerds out there, we have a link to a list of GUI prototyping tools. 3. How to Run a Facebook Contest Because 2011 was all about Facebook, here&rsquo...
---
Last night I presented to the SEMPO Vancouver meetup group on the different perspectives of generalists and specialists when it comes to Search Marketing. In summary, marketing generalists are under a ton of pressure to understand and create effective marketing strategies that address the growth of marketing channels and device choices, on top of dealing with the explosion of marketing data and financial constraints. Search marketing specialists can play a key strategic role in answering...
---
Photo by Elana Amsterdam Here at Boxcar Marketing, we like eggnog—and it's even better with rum. Here's an easy recipe from The Kitchn for Homemade Eggnog that you can make with either rum or bourbon. Yum! To busy yourself in between eggnogs, (if you missed it), here are our 12 marketing tips that you can do before Christmas. Also check out Search Engine Journal's 12 Days of Christmas Internet...
---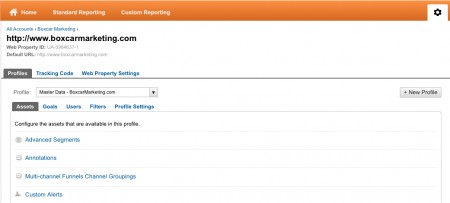 If you've read our post on how to filter out your internal traffic in Google Analytics, you know that it's important to filter out your internal traffic (employees, subcontractors) in order to avoiding skewing your data. People who are working on your website are spending more time than the average visitor on the site and, since Google Analytics shows traffic behaviour as an average number, including this internal traffic distorts your...
---

Photo by James Sarmiento Merry Christmas. Happy Hanukkah. Season's Greetings. Between egg nogs, scratch some to-do items off your list. Polish Up Your Social Media 1. Give your social media avatars and profile photos a new look. 2. Deck the halls: – Fine tune your Facebook Business Page – Polish up your LinkedIn profile. 3. Double check the list. Cross off a few more items on the Facebook Marketing Plan Checklist. 4. Make sure the reindeer can...
---