Blog & Free Advice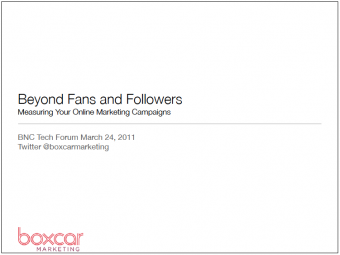 Analytics data can be overwhelming. One way to get the most out of your data is to use analytics to monitor how your site is performing and what to optimize. Here are 3 Google Analytics tools you can use to discover how to improve your site. (And if you don't have Google Analytics installed on your website, install it, it's free.) 1. Annotations Anytime you undertake a marketing activity you should annotate it...
---
The Art of Marketing, Canada's Marketing and Innovation Conference is coming to Vancouver on June 9, 2011. Register Now General Admission is $399, VIP is $499 and includes copies of the speakers' bestselling books. The conference presents remarkable speakers including Guy Kawasaki, William Taylor, Mitch Joel, Avinash Kaushik, and Gary Vaynerchuk. All great speakers, and all with excellent business and marketing books to their names. The day-long session (9 am to 4:45 pm) looks at critical issues in...
---
The Vancouver Sun recently published an article by Sean Cranbury that highlights Monique Trottier's presentation at BNC Technology Forum 2011. Tech Forum is an annual event that showcases experts and visionaries from the international publishing and bookselling scene. This year's focus was on practical insights on the digital space and Monique presented on measuring the success of your online marketing campaigns. Organized by BookNet's Samantha Francis, the conference opened with...
---