Blog & Free Advice
At some point with one of the iTunes upgrades there was a change to how the internet tethering works. For the last couple of weeks, I have not been able to connect to the internet by tethering my iPhone. My details: * Fido plan with unlimited data (hooray for me!) * 3G iPhone (grandpa) * iTunes 10 (keen upgrader) I think I fixed this and in the event that I need to do...
---
On Monday the Georgia Straight posted an article on how Vancouver's book scene is being reshaped by online communities. The article looks at how the web is changing the publishing industry and readers' relationship to books. Vancouver, in particular, is playing a role in changing the Canadian publishing landscape with events like the Vancouver Book Club, the W2 Real Vancouver Writers' & Culture Series and BookCamp Vancouver. Monique, who the article...
---
Friday, October 8 was Vancouver's 3rd Interesting event. Interesting was founded in London, UK by Russell Davies and now has chapters around the world. Friend and former Vancouverite Brett Macfarlane founded the Vancouver chapter and kicked off the event this year in a pre-recorded statement from Uraguay. If that wasn't interesting enough, the evening progressed through a series of 5- and 10-minute presentations on the jazz scene in Vancouver, yarn bombing, the...
---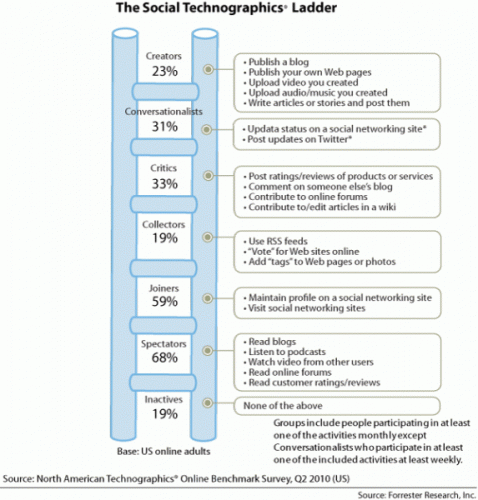 Just 16% of folks online generate 80% of the messages posted about products and services, according to Forrester Research's Josh Bernoff and Ted Schadler, authors of Empowered: Unleash Your Employees, Energize Your Customers, and Transform Your Business. It's not news that a small portion of the audience is actively participating, but it is news that social media participation has hit a plateau. Companies interested in social media marketing, in particular those who are...
---
October 1, 2010, was the second BookCamp Vancouver and it was a great success! Thank you to Crissy Campbell, our behind-the-scenes project manager extraordinaire, and the members of the organizing committee: John Maxwell, Sean Cranbury and Cynara Geissler. A big thanks to Jo-Anne Ray for her knowledge of all things SFU and her ability to wrangle rooms, caterers, AV equipment and other necessities. A huge, huge, huge thank you to the session moderators who took time out...
---