Blog & Free Advice
Effective copywriting is about having a good mix of SEO copywriting skills, online writing skills, and a solid understanding of your target audience and your overall marketing objectives. Good copywriting can help your content get found, convince people to buy your product or service, and convert readers into fans. In other words, good copywriting is essential to successful marketing. Here are some of our favourite tips for effective copywriting. Know your audience. Having an understanding...
---
Facebook Pages aren't a new feature, (although they keep changing the types of pages available), but when creating a Facebook Page it is difficult to know which type of page to choose. And Facebook doesn't make this easy—once you've chosen a page type the only way to change is to delete the page and start again. To stop this from happening I explored the page types and...
---
I was at Northern Voice two weekends ago and I went to a great session with the CBC's Lisa Johnson and the Vancouver Sun's Kirk LaPointe, on how journalists use social media. At the session, LaPointe argued that there is no news problem or audience problem in the newspaper industry; the problem is, in fact, a business one. This got me thinking about how newspapers are adapting their businesses to the...
---

April 26, 2012 Update: Here's how to give someone access to your Google Analytics in the new Google Analytics. Google Analytics gives you the ability to add users to your account and to grant them different levels of access. This is useful for when you want to share access to others in your company or when you hire an outside consultant who would benefit from looking at your web stats (like us). Here's...
---
Facebook has been releasing a ton of changes lately and, I don't know about you, but we're finding it difficult to keep up with them all. Most of the changes were introduced at the Facebook F8 developer conference back in April where Facebook released its new social platform that allows websites and applications to share information about users and create "personalized" web experiences using their Facebook profile information. Here...
---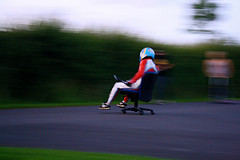 Leadership doesn't always come from the top. You can show leadership no matter what chair you sit in for the organization. Below are some tips. If you're the lone evangelist in your organization, the person who wants to experiment with social media, or wishes for a website redesign to increase usability, or needs tips for talking to the boss about why online marketing is important, you are not alone. There are...
---

May 15, 2012 Update: Here's how to get Analytics reports sent to your inbox in the new Google Analytics. Setting up your Google Analytics account to deliver your reports to your Inbox is a handy way to remember to monitor your web stats. Go to your Dashboard page. Right above the visitor graph, there's an Email icon. Click on it. You'll see 2 tabs, Send Now and Schedule. Click on the...
---