Once you've sorted out how to set up and manage your Facebook Business Page, the next step is understanding what applications to use. Using the right applications can help you create a robust Facebook business profile by building content on your page and increasing fan engagement.
Based on our experience with Facebook, here's our list of 7 effective apps for your Facebook Business Page:
1. Notes
Facebook's Notes app is one of the default applications that comes installed on every Facebook page. The app can be used to pull in your blog feed or to publish blog posts directly onto your Facebook page.
We like this app because, unlike wall posts that get pushed down the page as new content is posted, the Notes tab is a permanent place for content on your Facebook page.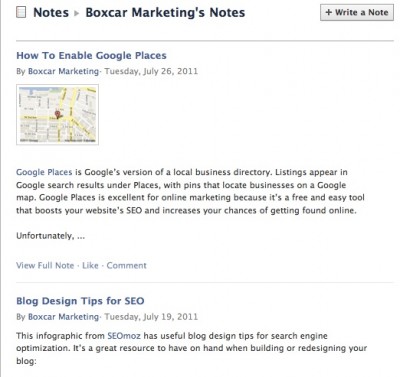 To add your blog feed to Notes:
Click on Edit Info (under your page name) > Apps (in the left sidebar)
Under Notes click on Go to App
In the left sidebar click on Edit import settings
On the Import a Blog page, paste your blog URL. You'll see a preview of what your imported blog will look like. Click Confirm.
Note: Over the past few months, we were noticing problems with the Notes import feature. It wasn't posting new blog posts or when it did it was posting it twice. This seems to have been fixed but you may want to monitor your Facebook page to ensure that Notes is importing correctly.
To write a post directly into Notes, click on Write a Note in your Notes page. When writing a note you can upload photos, use the WYSIWYG editor or use basic HTML.
This is how Notes appear on your wall:

2. RSS Graffiti
RSS Graffiti lets you publish RSS feeds to your wall. We use it to post content from Twitter but it can also be used to pull in a blog feed, your fans' Facebook newsfeeds, etc. The app also lets you customize how the RSS feed gets published to your wall. You can filter certain posts from Twitter (such as RTs, @replies and hashtags), set how often RSS Graffiti checks your feed for new content, and also set how many tweets or blog posts it will post per cycle. This is helpful for ensuring that you don't flood your wall with Twitter updates.

3. Selective Tweets
Another option for pulling in Twitter to your Facebook page is Selective Tweets. Rather than having all of your tweets pulled in, only tweets that end with #fb will be posted to your Facebook wall. We like this app because it lets you choose which tweets to share with your Facebook audience.
4. Poll
The Poll app is an easy way to add an interactive element to your Facebook page. You can use the app to survey your fans and quickly get customer feedback or you can use it to encourage interaction with fun games and questions.
5. Slideshare
Slideshare is a handy app for sharing presentations and documents with your Facebook fans. You can upload various file types, including PowerPoint, Keynote and PDF. You can also import your Slideshare presentations from Slideshare if you already have an account.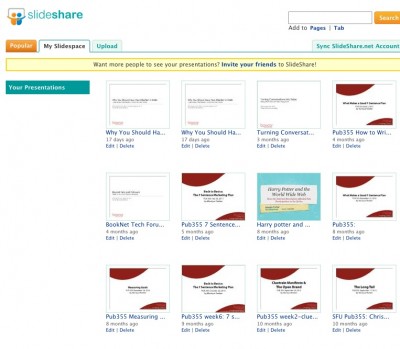 6. YouTube Video Box
YouTube Video Box is an app for pulling in YouTube videos. You can share YouTube videos related to your business and import your own videos from your company's YouTube account.
7. Reviews
Reviews is an excellent app for providing your fans and customers with a place to leave their reviews about your business. Clients and consumers appreciate brands who are willing to post honest reviews and this app is an easy way to let customers leave their opinions and comments about your brand.
—-
Are we missing any Facebook apps? What app is a must-have on your list?